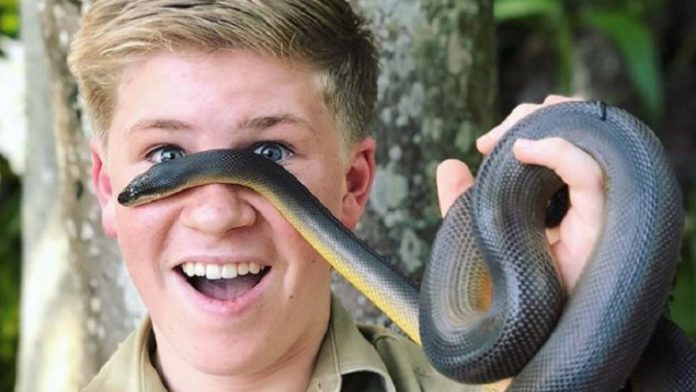 Bob Irwin Shared A Photo Of Him And His Dad Steve Feeding The Same Crocodile 15 Years Apart!
Bob Irwin was only three years old when his dad Steve Irwin died in 2006 after a stingray accident. The youngster is now 15 years old and has grown into his dad's twin both in looks and spirit.
The teenager, who is following in his dad's famous footsteps, is now a successful wildlife photographer and is still heavily involved in the family's running of Australia Zoo. In fact he often pops in with his mum Terri and old sister Bindi.
On July 3rd, Bob shared a photo of himself feeding a crocodile named Murray alongside a photo of his father feeding the same croc 15 years ago!
Our hearts can't take this! Look at the similarities! Look at the excitement and passion both men share. There is no doubt in our minds that Bob is carrying his dad's spirit with him every day.
Dad and me feeding Murray… same place, same croc – two photos 15 years apart ❤️🐊 pic.twitter.com/9Ybp5AnTOI

— Robert Irwin (@RobertIrwin) July 3, 2019
The photo was shared on twitter with the caption "Dad and me feeding Murray…same place, same croc- two photos 15 years apart." And if they're not twins then I don't know who is!
Check out some of the beautiful comments left on twitter showing Bob that although his dad Steve may be gone he's definitely not forgotten.
I hope you keep doing what makes you happiest man. Your whole family is and has always been a huge positive influence on me and many others around the globe. Keep your passion alive! 🙂 
I know your father would be proud of you and your sister for carrying on the legacy he left behind. Seeing this makes me proud to be Australian.
I have to admit in the past you made me sad because you make me think about him. But now I realize that you make me happy because you make me think about him.
You've won the internet for today! Incredible photo!
I grew up watching Steve Irwin. I was always amazed at his intelligence, he always said @AustraliaZoo would be just fine long after he was gone…this photo absolutely proves it…
Robert, his older sister Bindi and their mom Terri continue to honor Steve's legacy by caring for more than 1,200 animals at the Australia Zoo. Their work is featured in the show "Crikey! It's The Irwins."
Bindi is also heavily involved in animal conservation and says she will always honour her dad's legacy. "As I've gotten older, I've realised that I'm able to carry on in his footsteps and make sure that his legacy continues on forever," she said in a recent interview.
She continued, "I really believe that dad is with us every single day, and I think that his spirit lives on in all that we do, and that's something that I hold really close. Dad was extraordinary. He'll always be my superhero."
Cue the tissues….we're not crying…you are.
Images: Twitter and Instagram