Snooki Shares First Photo Of All Her Kids Together Just Days After Giving Birth!
Jersey Shore star Nicole 'Snooki' Polizzi and husband Jionni LaVelle became the proud parents to their third child together last week- an adorable baby boy they named Angelo James LaVelle.
View this post on Instagram
Weighing in at 7 pounds, 8 ounces little Angelo joins his older brother Lorenzo LaValle and sister Giovanna LaValle making them a proud family of five!
Snooki shared the first pic on Instagram of all three of her adorable children with the caption "MY SQUAD, So proud of Lorenzo & for killing it with Angelo! #ProudMawma"
Also can we just stop for a moment and appreciate just how much Giovanna looks like her famous mumma! It's uncanny.
While the mum of three is slowly getting used to having a larger family she did playfully add some pics to her Instagram stories seemingly ready for a break. 
"Trying to manage three kids. Is it too soon to have vodka?" she wrote cheekily on one photo. We hear you sister! We've all been there and the answer is NO.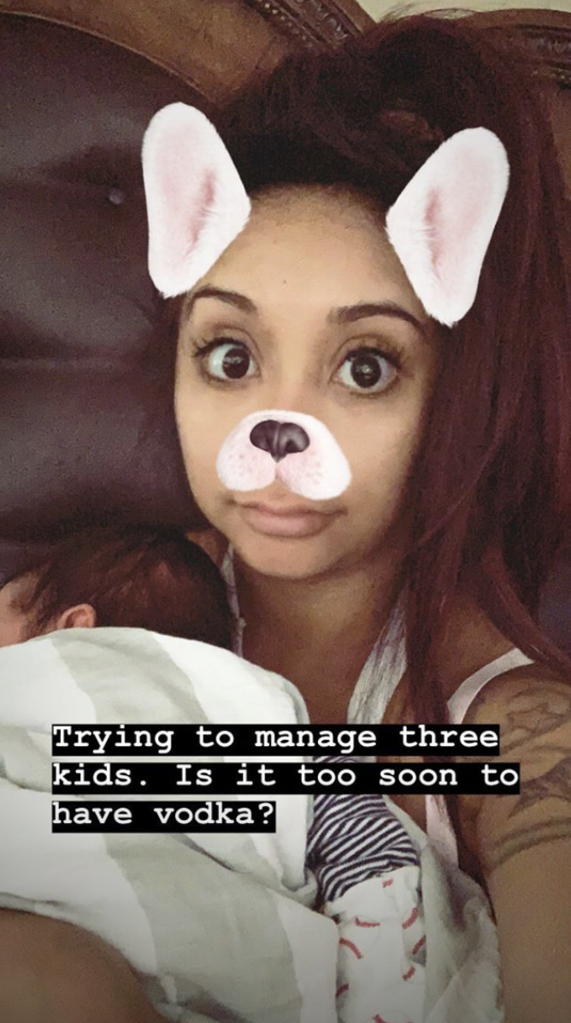 In another picture, she wrote, "So excited to be breastfeeding again!! He's doing so well."
Congratulations Snooki! We're so happy to see you and your beautiful family doing so well. And while having three kids may feel like an uphill battle somedays (and it is) we all know that you've got this mumma! Well done!
View this post on Instagram
Images: Instagram