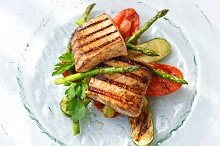 This is an easy dish to barbecue for a crowd. The swordfish can be put in the marinade several hours ahead of time and any Mediterranean-style vegetable can be used including eggplant, capsicum and onion.
Balsamic-Marinated Swordfish Steaks with Seared Vegetables

Ingredients

4 x 180g sashimi-grade swordfish steaks, skin off (see notes)
1 bunch green asparagus, trimmed
2 zucchini, sliced lengthways into thick ribbons
4 roma tomatoes, halved
⅓ cup extra virgin olive oil
Salt flakes and freshly ground black pepper, to taste
¼ cup flat-leaf parsley sprigs
Balsamic Marinade
¼ cup extra virgin olive oil
1 tablespoon balsamic vinegar (see notes)
Salt flakes and freshly ground black pepper, to taste

Instructions

Heat a barbecue or char-grill plate.
Make Balsamic Marinade: combine all ingredients.
Place the fish in a flat dish, pour on the marinade and turn the fish to coat well. Cover and set aside.
Brush the asparagus, zucchini and tomatoes generously with olive oil, sprinkle with salt and pepper. Place the asparagus on the grill plate and cook for about 2 minutes, then turn them and place the zucchini and tomatoes on the grill plate. Turn after a minute or so and cook until well marked. Remove and arrange on a platter.
Remove fish from marinade and place on the char-grill section of the BBQ for 3-4 minutes until well marked, then turn and cook other side for 1-2 minutes, or longer if you'd like it cooked all the way through.
Place fish on top of the vegetables and garnish with parsley sprigs.

http://mumslounge.com.au/lifestyle/food/balsamic-marinated-swordfish-steaks-with-seared-vegetables/
Notes: Sashimi-grade fish is normally sold trimmed, if it is not, trim off any skin and dark muscle before marinating. If asparagus spears are thick and woody, snap off and discard the bottom section and use a potato peeler to peel the spears; if they are thin, you may only need to cut off the very end and not need to peel them. Use balsamic vinegar labelled 'Balsamico di Modena', it's more expensive but the taste is far superior.
Alternative Species: Albacore, bonito, king threadfin, mackerel, striped marlin, tuna.
© Sydney Fish Market 2013