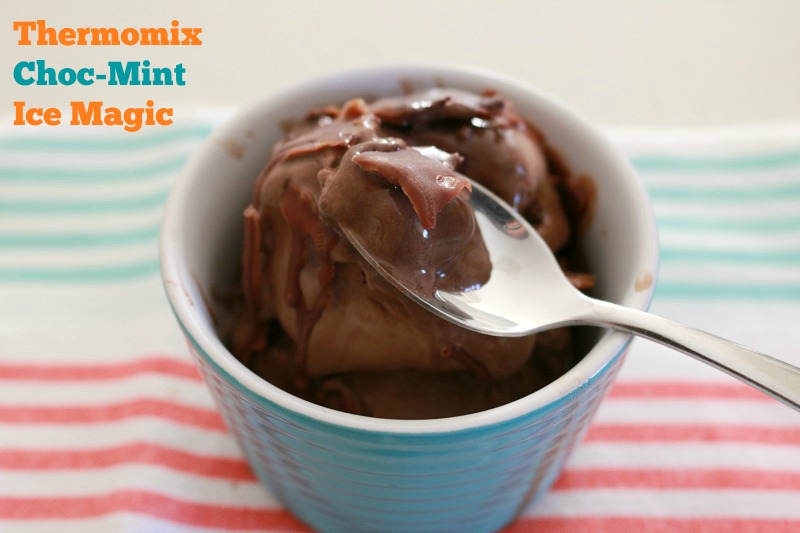 I've loved Ice Magic for as long as I can remember. There's nothing better than that crunchy chocolate on top of a big bowl of ice cream! And don't even get me started on how much I love a good old choc-top at the movies (trust me, I love them a LOT!).
 But when I bought my Thermomix, I knew it was time to start making my own Ice Magic. I think that's one of the best things about the Thermomix – you can save so much money by making everything from scratch. Oh and in this case, I think I probably saved a lot of time too because it would have taken me way longer to make a trip the the supermarket to buy some Ice Magic!
 And anyway, this version is so much healthier than the store bought variety- it also has way less ingredients which is always a good thing! My classic chocolate Thermomix Ice Magic recipe is made from coconut oil, cacao powder and agave syrup – that's it! Surely you can't improve on perfection, right!? Well, I'm here to tell you that you can! The only thing better than the classic chocolate version is my choc-mint Ice Magic! Yep you heard right! As much as I love chocolate, choc-mint will always win hands-down in my books. And so, I decided to have a little play around and make a choc-mint version of my ice magic…. total yumminess!
To add a little minty hit to your chocolate ice magic, all you need to do is add a drop or two of peppermint essence! Yes it really is that simple! Have a little taste and add more essence if you're after a really mega choc-mint hit (I find that two drops is perfect for me!).
If you're after a totally decadent dessert then sprinkle a crushed up peppermint crisp bar over your ice cream and ice magic… Seriously amazing!!
Thermomix Mint-Choc Ice Magic Recipe
Thermomix Recipe: Thermomix Choc-Mint Ice Magic
Ingredients
100g coconut oil
60g cacao powder (you can also use cocoa powder)
50g agave syrup (you can also use maple syrup)
2 drops peppermint essence (more or less depending on your taste preferences)
 
Instructions
1. Place the coconut oil, cacao powder, agave syrup and peppermint essence into the Thermomix bowl.
2. Melt ingredients on 37 degrees, Speed 1 for 2 minutes or until completely melted.
3. Pour the ice magic over ice cream to serve.
4. Store any remaining ice magic at room temperature in an airtight container.
http://mumslounge.com.au/lifestyle/food/thermomix-recipes/thermomix-recipe-thermomix-choc-mint-ice-magic/