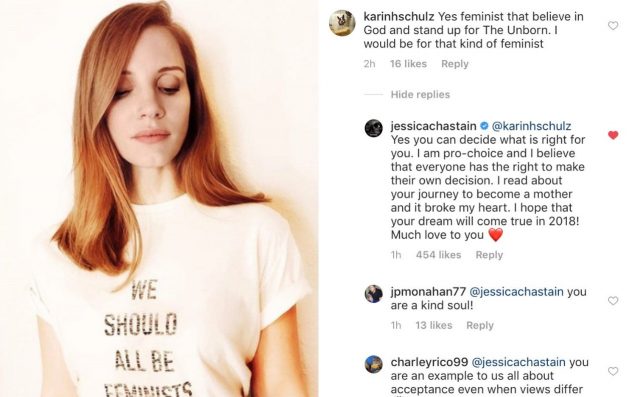 Hollywood Actress Jessica Chastain Donates $2K To Help An Angry Instagram Commenter Have A Baby!
Hollywood actress Jessica Chastain is a woman who stands by the motto of "women supporting women".
Chastain donated $2,000 of her own money to the GoFundMe campaign of a woman who posted an angry message on her Instagram account. The money is to help fund the couple's fertility treatment.
On International Women's Day, Chastain shared a photo of herself with a t-shirt that read "We should all be feminists." The caption said: FEMINISM: the theory of the political, economic, and social equality of the sexes #happy international women's day @renatocampora.'
It was there that the commenter Karin Schulz, criticised the actress for being pro-choice. Schulz wrote: 'Yes feminist that believe in God and stand up for The Unborn. I would be for that kind of feminist.'
Instead of hitting back with a hateful comment, Chastain took the high road and responded with this:'Yes you can decide what is right for you. I am pro-choice and I believe that everyone has the right to make their own decision.'
The actress must have then done a bit of cyberstalking and discovered that on Schulz's Instagram profile was a link to her GoFundMe page which outlined the struggles the couple had trying to conceive. So even though Chastain disagreed with her comments she understood the woman was coming from a place of hurt and pain herself.
Chastain promptly proceeded to make a donation to Schulz's campaign. Along with the donation, the actress left the comment: "You'll be wonderful parents who teach love by example. Someday you'll hold your baby. Don't give up."
What an inspirational thing to do. Just goes to show that we don't know what's going on behind closed doors and that we should try and show compassion and understanding even if our first reaction is to attack.
Images: Instagram