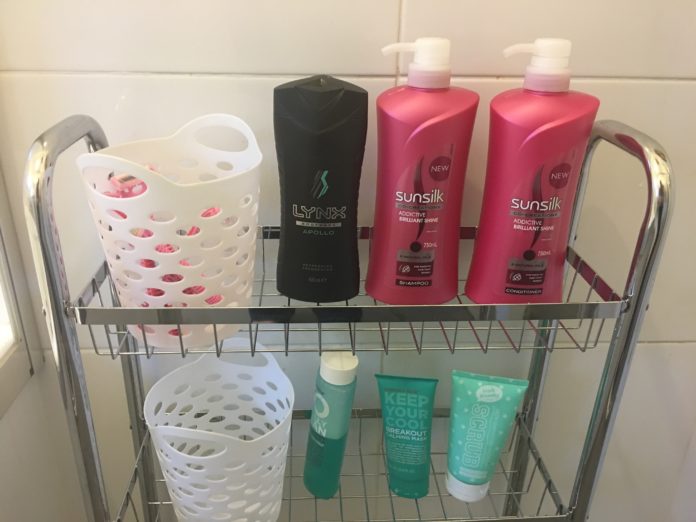 Organise Your Life – The Bathroom Edition!
Sponsored post
I love getting organised, mostly because I love thinking up new solutions to the things that p*@s me off but mostly because it saves me so much time in the long run!
I also like one stop shops!
This week's trip to Cheap As Chips was to sort out my bathroom blues..
I found this really cool trolley that has given my small space bathrooms a real make over!
Most of my bathroom woes were all solved by the same trolley, at only $29 this 3 tier chrome utility trolley fits the bill.
6 people live in my house and everyone has different needs when it comes to hair care so having a trolley in the shower that holds all the different shampoos and body washes is ideal! The white mini basket ($2 each) is ideal for keeping in bits and pieces in like the Women's razors (4pk $2) and hair ties that would otherwise be swept down the drain
I managed to get it all including the shampoo, conditioner, ( Sunsilk Shampoo $6) body wash, and everything else that five girls use in the bathroom at the same time I picked up the trolley! The best part is that all I need to do to clean the shower out is to roll out the trolley!
Embarrassingly this is what my bathroom looks like in the morning when the girls have all headed out to school or Uni! Ok, I did remove all the towels and dirty clothes from the floor before I took the photo.. It takes ages to pack all that stuff away and there is absolutely no room in those tiny cupboards.
Once again employing these handy $2 baskets that are so easy to clean, I have made a space for the toothbrushes, the hair brushes and all of the hair sprays, detangle spray, hair dryers and straighteners!
I have added a roll of cloth wipes for wiping up spills and make up, no excuses for not keeping the sink clear now!
I also managed to pick up Dettol scrubbing bathroom wipes $2.25
Loreal Elnett Satin Hair spray $6
Hairbrushes $2.50
Palmolive foaming hand wash $2.50
House hold wipe roll $4
Colgate tooth paste $2.50
Hair elastics $2
So the savings on the groceries saved enough to but the trolley anyway!
And with only the soap on the sink it is so easy to keep clear!
Another trolley tucked behind the door holds the rest of the goods needed to keep the bathroom clean and some stain remover to apply to those pesky stains that you only notice after a day of walking around in them!
Those Vileda cloths are so good at cleaning that even the littlest of children can give a good clean without needing any chemicals and at $3.50 for a pack of 4 you can keep some in all the areas of the house you need.
Well, that was my Saturday! Did you get organised this week?