Botched Doctor Paul Nassif Denies Recent Facelift Was To Keep Up With His 28 Year Old Wife!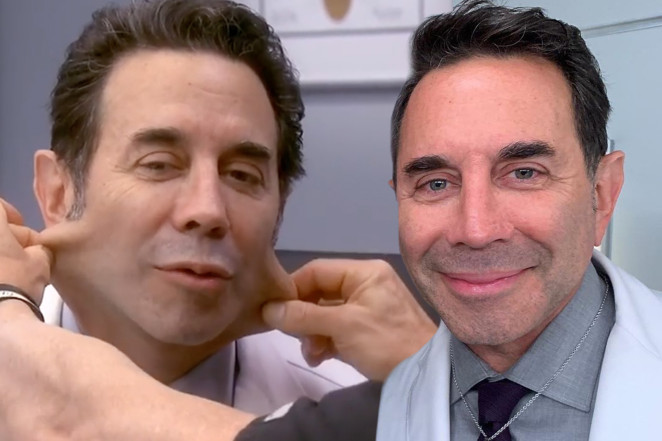 Botched Doctor Paul Nassif Denies Recent Facelift Was To Keep Up With His 28 Year Old Wife!
Celebrity plastic surgeon and reality TV star Paul Nassif is usually the one holding the knife but this time the Botched doctor was the one receiving a very transforming face lift!
The Real Housewives of Beverly Hills alum says he had surgery to remove post-weight loss excess skin that was driving him "crazy." Paul had a deep plane facelift by Dr. Andrew Jacono, which works by going under the face of the muscles. During a recent episode of Botched, Paul, 57 told Dr. Terry Dubrow that he went under the knife and playfully teased that Terry played a role in his decision. "You know when you called me a flying squirrel and grabbed my neck," Paul said to Terry before showing him photos of the procedure he had done in 2018. "Don't even try to blame your desire to have cosmetic surgery on me," Terry joked in response.
But while Paul may joke that it was because of Terry he went under knife, everyone else thinks it has a lot to do with his new wife Brittany Pattakos which he married in October.
Why? Because there's quite a large age gap between himself and his 28-year-old wife. "It's something that I personally wanted to do for myself," he said. "It doesn't matter if I am married to someone 105 or Brittany, I would have done it."
He and his new bride, Brittany Pattakos tied the knot in a private ceremony held in Los Angeles. Their reception, however, was held on October 6 on the Greek island of Santorini.
Paul's new wife is also in the medical field as a CoolSculpting specialist. In addition to specialising in the fat-freezing treatment, Brittany is also a medical assistant. She is of Greek heritage, has a twin, and is very much into fitness.
View this post on Instagram
The couple became engaged on June 1, when Paul proposed to the 28-year-old Pattakos a few days before his birthday. A video of the engagement was shared on Instagram where we see the happy couple going out for a boat ride. As they sail down the water, they approach a sign that says "Brittany, will you marry me?" Paul then drops to one knee and the delighted Brittany accepts the proposal. "This weekend I found out I get to spend the rest of my life with my soulmate," Paul shared of the sweet moment.
Dr. Nassif was previously married to The Real Housewives of Beverly Hills star Adrienne Maloof. The couple have three children together and while their 2012 split was quite nasty and involved a bitter custody battle, the two have since established a much more cordial relationship. "One thing that Adrienne and I have done, since time does really take care of things, our relationship now, especially because we have three beautiful boys, is actually quite good," Dr. Nassif said in an interview in 2015.
Images: Via Instagram