Kylie Jenner's Daughter Stormi Webster Is Ridiculously Polite and Articulate In Latest Cooking Video!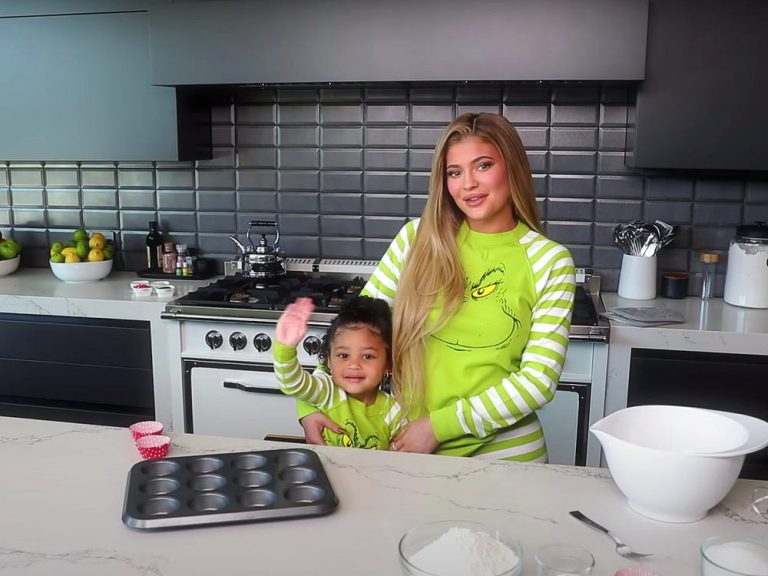 Kylie Jenner's Daughter Stormi Webster Is Ridiculously Polite and Articulate In Latest Cooking Video!
Fans are going crazy online over how ridiculously polite Stormi Webster is and are praising mum Kylie Jenner for raising such a well mannered child.
The make up mogul posted her latest baking video with two year old Stormi to promote her new Kylie Cosmetics x The Grinch collection. Posted on Thursday, the clip shows the 23 year old mum and reality star baking and decorating cupcakes dressed in matching green striped pyjamas with her mini me.
Throughout the cooking session Stormi can be clearly heard praising her mum, telling her she's beautiful as well as throwing in random 'I love you mummy' and plenty of 'thank yous.'
Fans are astounded at just how articulate Stormi is for a two year old but also just how polite she is. Many were quick to point out how refreshing it is to see a mum treat a child like a person and not talk down to them like they're stupid.
Stormi is clearly used to being in front of the camera and knows just how two smile and look adorable. Understandably fans went crazy over the cupcake demonstration and were quick to jump on twitter and share their responses. Many saying Stormi makes them super clucky…which we have to agree with! I mean, come on, that is one cute two year old!
stormi is the cutest, most gentle child pls i'll sob pic.twitter.com/x8o7OdZiuz

— saira (@NOSENSEBlEBERS) November 19, 2020
Not another cute ass video of Stormi giving me baby fever 🥰 pic.twitter.com/UaastHtXkC

— Mayra Carbajal (@MCarbajal96) November 19, 2020
Stormi is Kylie's only child with rapper Travis Scott, whose real name is Jacques Webster.  Although the two broke up in 2019, rumours are surfacing that the couple have rekindled their relationship after reports suggest they quarantined together.
Stormi is one of the most well behaved celebrity children I've ever seen pic.twitter.com/TipFyc4EP7

— Virus 🛸👾 (@big_hasso) November 19, 2020
Check out the full video below and prepare to smile until your cheeks hurt!
Images: YouTube and Twitter