Sex And The City Girls Return For Reboot Minus Samantha Jones!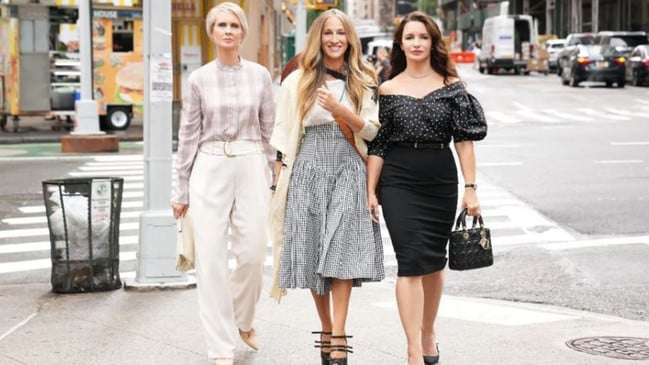 Sex And The City Girls Return For Reboot Minus Samantha Jones!
New York's favourite women have returned for a reboot of Sex and the City titled And Just Liked That. Sarah Jessica Parker, Cynthia Nixon, and Kristin Davis have all returned to reprise their roles. Kim Cattrall who played proudly promiscuous publicist Samantha Jones is not returning.
The reboot follows the three friends in New York- "Carrie" (Parker), "Miranda" (Nixon), and "Charlotte" (Davis) as "they navigate the journey from the complicated reality of life and friendship in their 30s to the even more complicated reality of life and friendship in their 50s."
Production has officially commenced as an official photo was dropped over the weekend showing the three women strutting down a New York Street. And Just Like That is set to hit streaming in Australia on Binge later this year.
Fans however were not happy to learn that group favourite Kim wouldn't be returning to reprise her much loved role of Samantha.
HBO Max chief content officer Casey Bloys said in an interview back in February "the show is very much a story about women in their 50s, and they are dealing with things that people deal with in their 50s. Just as in real life, people come into your life, people leave. Friendships fade, and new friendships start. So I think it is all very indicative of the real stages, the actual stages of life … They're trying to tell an honest story about being a woman in her 50s in New York. So it should all feel somewhat organic, and the friends that you have when you're 30, you may not have when you're 50."
That still wasn't enough to keep fans happy. Many likened the absence of Samantha similar to trying to rekindle Destiny's Child without Beyoncé!
Sex and the City doing a new series without Samantha is like Destiny's Child making a comeback without Beyoncé #andjustlikethat #satc pic.twitter.com/shwVFmzDJO

— Rebeckah Hird (@RebeckahHird) January 11, 2021
Jennifer Armstrong, author of "Sex and the City and Us: How Four Single Women Changed the Way We Think, Live, and Love," however disagrees and says the change makes sense. While Armstrong says a show without Samantha "is very hard to imagine," she says that "characters, people, humans move on all the time. Friendships end."
Armstrong explains that the producers are sure to account for Samantha's absence in some way: "Maybe she drifted apart from the other women; maybe Samantha stayed in Los Angeles, where she had moved in the first "Sex and the City" movie; or maybe she bought a farmhouse in Upstate New York during the pandemic exodus."
Samantha, Armstrong believes was relevant in that era. Perhaps not so much today: "So much of the transgressiveness of 'Sex and the City' was her and the way she contributed to the discussions. She brought the dirtiest words and filthiest thoughts. She said things in a straightforward, unapologetic fashion. That was a huge part of what made the show sociologically a huge deal at the time. Samantha taught the next generation of women to talk openly and frankly about their sexual desires."
Are you looking forward to the reboot? Will it be the same without Samantha Jones? 
Images: Instagram and Twitter