Anne Hathaway Steps Out 7 Weeks After Having Baby For Movie Event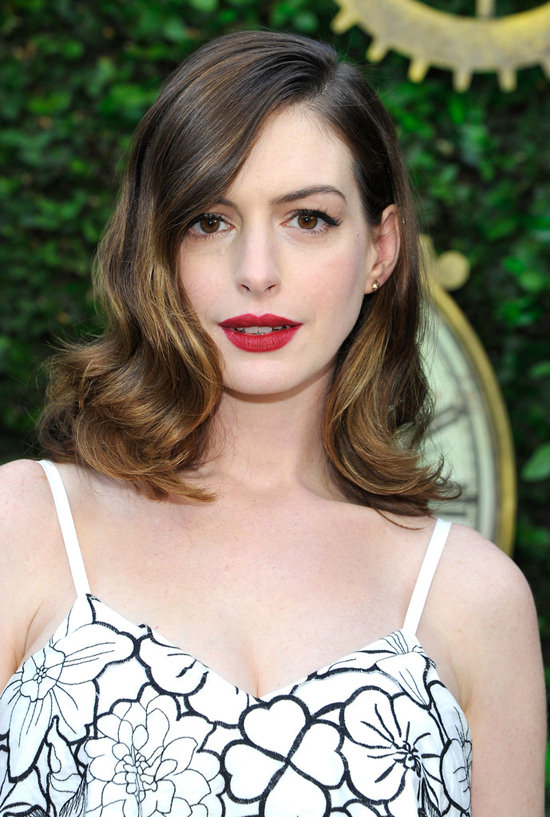 Anne Hathaway and her husband Adam Schulman are the proud parents of  nearly 2 month old son Jonathan Rosebanks Schulman who was born in March this year.
It's the first child for the 33 year old actress and over the weekend Hathaway made one of her few red carpet appearances post baby, for a promotional event for her movie Alice Through The Looking Glass.
Hathaway was simply glowing in a gorgeous black and white knee-length Disaya Resort dress with her hair in soft waves and her trademark red lips.
A few online sites have commented how fantastic it is to see Hathaway out and about and proudly showing off a hint of post-baby tummy. What?! I hadn't even thought to check out her stomach but after reading the comments I started to look for it.
Nope, can't see it here.
Or even here!
All I see is a woman who looks and feels beautiful. Whether or not she had a baby 7 weeks ago should be totally irrelevant and not part of the conversation. But unfortunately we are so used to seeing celebrities flaunting a washboard flat stomach straight out of the delivery room that anything else seems unusual!
And here is where the problem lies.There is no 'normal' body. No normal pregnancy and definitely no normal post-baby body. Some women get their figures back straight away while others have to work hard to lose their baby tummies. And that's ok.
After giving birth to my twins I remember looking down at my stomach for months and wondering if the doctor had left a baby behind in there! But on the flip side I didn't get one single stretch mark. See, there is no normal!
So let's just enjoy these photos of a stunning woman who is glowing with the knowledge that she managed to get her shit together and leave the house without an ounce of spew in her hair!
Photos courtesy of Getty Images.