Coco Austin Shows Off Her Killer Abs In a Selfie to Mark Her Return To The Gym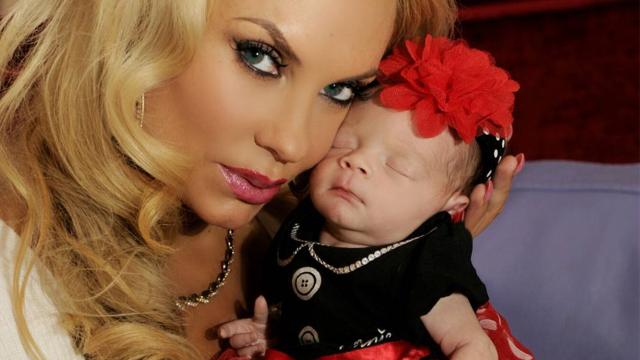 Coco Austin returned to the gym for the first time in about a year and she has marked the occasion with a selfie, of course.
The 37-year-old model, who had her first child, Chanel, with husband Ice T in November, shared a mirror selfie on Instagram along with an explanation about how hard it was to get back to the gym.
"4/5/16 marks the official day of starting on my gym grind. I stopped going pretty much a year ago when I got pregnant with Chanel. Well, 4 months after delivering her I have had no motivation because all I want to do is use my time to raise my baby and watch her grow. I don't want to be separated from her at all..plus I can't be too long cause I still breastfeed. So yesterday I took her to the gym with me and put her in childcare and worked out for 3 hours.. I took a spin and yoga class. (Yes my whole body is super sore today). I wanted to take a selfie afterward (seen here) to really see what I need to work on and surprising I liked what a saw." Ice T's wife wrote. "I did eat really good through my pregnancy and now I can speak on it and say this is proof that with a decent diet and no gym your body can still stay somewhat together after a baby..I literally had a big bowl of mixed fruit everyday which I give credit to."
Coco added that during her pregnancy, she actually lost weight at first and got a "little skinny" for her taste.
"I … want to build some muscle back and thankfully I have gained some weight back recently which I have gotten thicker naturally," she continued in her post. "More updates soon….PS. A strong core (abs) are why I had a small baby bump and a fast labor..Thats key and very helpful for having a smooth pregnancy," she concluded.
Photo courtesy of Instagram.