Cousins North West and Penelope Disick Get Princess Makeovers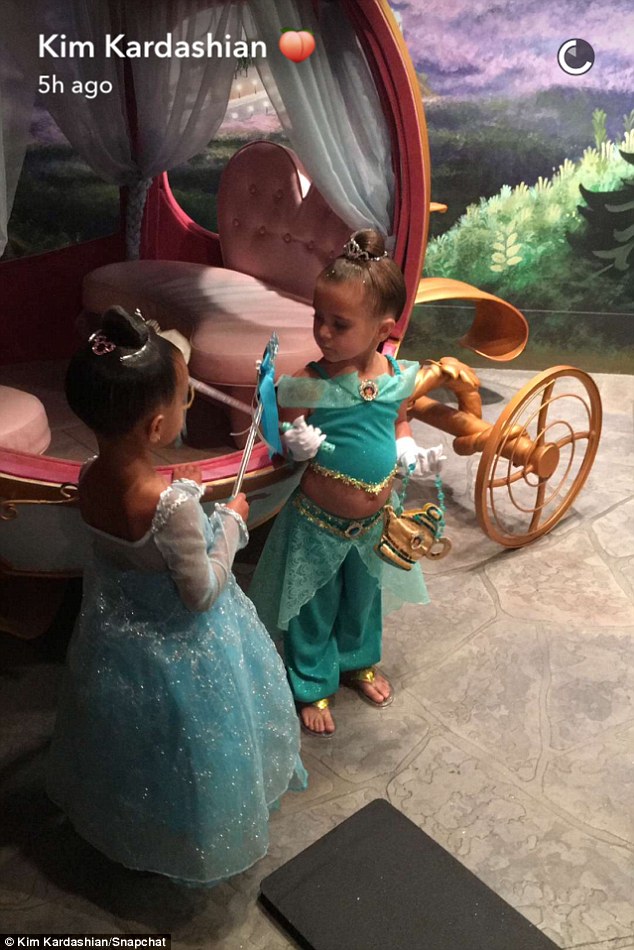 North West and her cousin Penelope Disick enjoyed a day of princess makeovers recently while visiting Disneyland.
The daughter of Kim and Kanye West looked adorable as Queen Elsa while three-year-old cousin Penelope Disick dressed up as Princess Jasmine and their best friend Ryan Romulus was Cinderella.
The Disneyland Resort boutique offers a 'royal head-to-toe transformation,' including hair styling, make-up, a dress, and accessories.
All three girls had their hair pulled up into top knots, covered in sparkly glitter and topped with a silver tiara. Northie wore a shiny, long-sleeved, pale blue dress to look like the Queen of Arendelle, with braided, silver embellishments and a flowing, ice blue skirt.
Her three-year-old cousin Penelope (Kourtney and Scott's daughter) was dressed as Princess Jasmine from Disney's Aladdin and wore flowing green trousers with a lacy, green skirt embellishment.
In one shot Penelope and North could be seen chatting as they compared their glittery wands while standing in front of a pretty, pink carriage.
The girls' close friend Ryan, daughter of family friend Tracy Nguyen Romulus, also joined the girls with the royal treatment She chose to dress as beloved princess Cinderella.
Photos courtesy of Instagram and Snapchat.