Drake Reunion with his Degrassi Junior High Co-Stars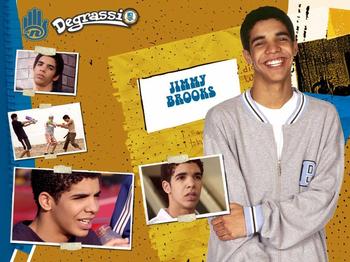 Canadian rapper, singer and songwriter Drake first shot to fame as a character on the cult series Degrassi: The next generation.
Back then he went by the name Aubrey Graham and he played a much loved character called Jimmy Brooks.
Drake caught up with his former "Degrassi" co-stars on Wednesday in Toronto at the premiere of "We Are Disorderly." Throwing his arms around Lauren Collins (Paige Michalchuk), Daniel Clark (Sean Cameron), and Adamo Ruggiero, the rapper posed for photos that Collins later posted on Instagram (via Us). "Some old friends got together last night at the #wearedisorderly premiere," she wrote. Added Clark: "Always great seeing this guy @champagnepapi @robbywclark @wearedisorderly #wearedisorderly #screening."
Who didn't love Degrassi Junior High? I remember rushing home after school to catch every episode of this exciting and sometimes controversial series. It truly was ahead of its time with some of the story lines. Degrassi tackled issues such as drug taking, abortion and teen pregnancy. It truly was a stand out drama series that treated it's audience of children and teenagers with respect rather than presenting them with condescending messages of right and wrong.
After appearing on Degrassi, Drake later rose to prominence as a rapper, releasing several albums like Room for Improvement before signing to Lil Wayne's Young Money Entertainment in June 2009.
Drake has sold over 5 million albums worldwide with his work earning him a Grammy Award, three Juno Awards, six BET Awards, and several significant Billboard records. With twelve number-one singles, Drake has more than any other artist on Billboard's Hot Rap Songs chart. With ten number-one singles, he also has more than any other rapper on Billboard‍ '​s Hot R&B/Hip-Hop Songs chart, passing Jay-Z.
And to think he has Degrassi to thank for all that!
By Chrystal Psaltopoulos
Images courtesy of Getty Images