Gwen Stefani spotted out for the first time since split from Gavin Rossdale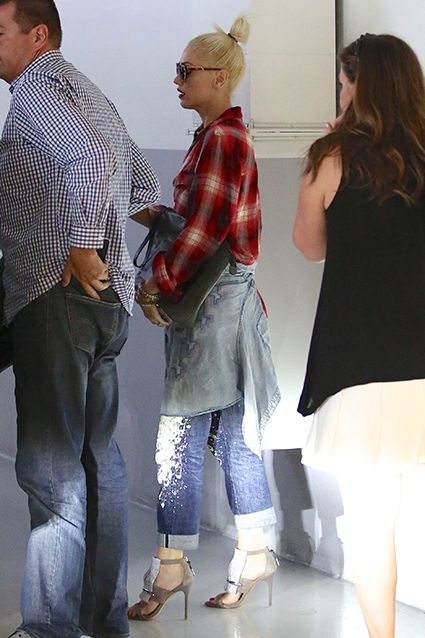 No Doubt front woman, Gwen Stefani has been sighted out for the first time following news that she has filed for divorce from her husband of 13 years Gavin Rossdale.
Looking as stylish as always in a red flannel shirt, boyfriend jeans and fringed heels, Gwen seemed to be in a quite sombre and reflective mood.
The couple made a joint statement to Entertainment Tonight recently saying: While the two of us have come to the mutual decision that we will no longer be partners in marriage, we remain partners in parenthood and are committed to jointly raising our three sons in a happy and healthy environment. To that end, we respectfully request privacy from the media during this time.
Gwen Stefani has cited irreconcilable differences in her divorce papers filed on Monday.
Gavin Rossdale's former lover, Marilyn Robinson, recently made this statement to The Insider about the impending divorce:
I'm getting the gist that people want me to be somehow to blame for the marriage split and that's just not true. He went on to say: I love Gavin. I've always loved Gavin. I want him to be happy, and Gwen to be happy, and the kids to be happy.
Both Gwen and Gavin are seeking full custody of the their three sons- 9yo Kingston, 6yo Zuma and 1yo Apollo.
Marriage can be hard work, especially when you're in the limelight of Hollywood trying to raise a family and have a career. We wish Gwen and Gavin all the best in their mutual uncoupling and hope they can continue  to co-parent their beautiful boys together.
Images courtesy of INF.photo.com