Kim Kardashian Sends Brother Rob Crying Snapchat Video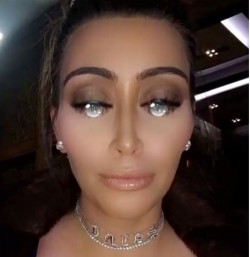 Say what you will about Kim Kardashian West but one thing you have to give her credit for is the fact that she knows how to have a laugh at her own expense.
The reality TV star has recently been sending her brother Rob a number of snapchat videos which show a light hearted side to Kardashian.
The latest one being her "crying" video. We're all now familiar with Kim's famous crying face which has made it's way onto everything from stickers, to dress designs to mobile phone covers. In fact Kim included the now infamous image as part of her emoji range.
Kim's video below used the crying filter on snapchat and in a tearful voice stated, "Rob, we really need to talk!" He in turn shared the clip on his Instagram, writing, "Had to post this snap my sis sent me. LOL she's got jokes! #KimsCryFace."