Louis Tomlinson's Baby Mama Briana Jungwirth Looks Relaxed With Son Freddie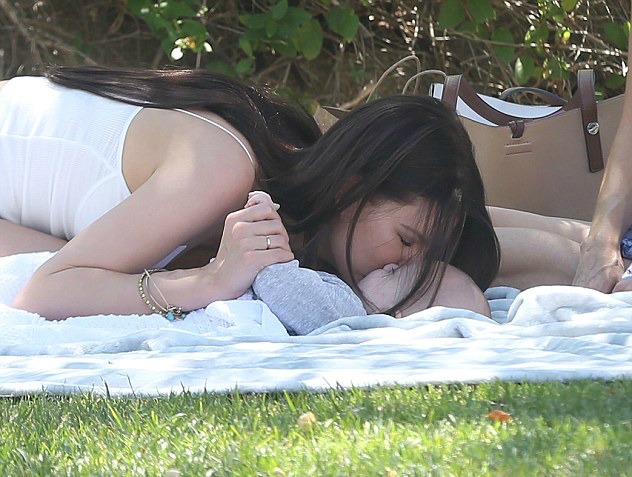 Briana Jungwirth spent some quality time recently with her son Freddie in a park in LA.
The 24 year old former stylist and ex-girlfriend of One Direction's Louis Tomlinson, looks to be enjoying motherhood as she dotes on her 4 month old  boy.
The brunette was joined by a girlfriend in a local park where they enjoyed a relaxed picnic in the sun.
Briana has shared her struggles with her fans on social media following the announcement she was pregnant with Louis' child. She wrote: 'This past year has been the best and worst of my life,' she said. 'I was blessed with the most amazing gift – a beautiful baby boy that I grew inside of me for 9 months.
On the other hand, I was scrutinized and harassed by thousands – which even included major media outlets whom all seemed to believe he wasn't real.'
The stylist then went on to discuss the hate she received from 1D fans which she says has only made her strive to be a better mother.
'I also know that if it was said about you, you may not had the will power to hold back as much as I have. I will be strong enough to continue to embrace this journey, love my son endlessly and be kind to those who do not deserve it even if it's the last thing I'd like to do.'

'News of the pregnancy broke in July 2015 following Louis' brief fling with Briana in Los Angeles the previous May. The British pop star made the move to the US to be near Briana, earlier this year. A source has said that even his parents are close by to help: 'His mum and her husband are in Los Angeles with Louis to help Louis, Briana and her family in any way they can.'
Louis is now in a new relationship with actress Danielle Campbell.
Photos courtesy of Google images.