Madonna Appears Drunk While Singing a Song Dedicated to Son Rocco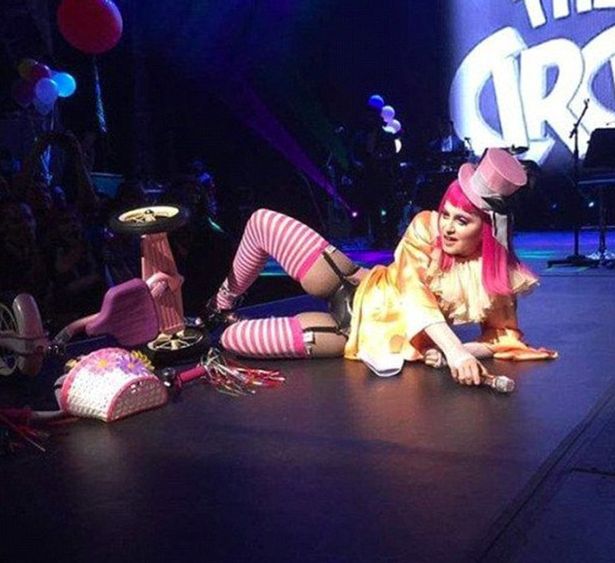 Madonna treated some of her lucky fans to a free intimate concert on Thursday night in Melbourne at the Forum theatre. The pop star, who is in Australia on her "Rebel Heart" tour unveiled a show titled "Tears of a Clown" which saw her perform many of her old hits while dressed as a clown. The concert was 4 hours late and didn't begin until almost midnight.
After a long 4 hour wait, Madonna fans were treated to quite a spectacle. The singer arrived on stage on a tricycle dressed in a pink wig and clown costume. However it was her demeanour that left fans worried. People in the audience were wondering whether Madonna was drunk while on stage as she looked quite emotional and unstable at times.
She even allegedly told the crowd in Melbourne: "One thing I'm going to do here tonight that I've never done before when singing is drink."
Madonna then went on to dedicate  an emotional song to estranged son Rocco and it was at this stage that she appeared intoxicated.
The 57 year old star apparently downed drinks in front of the bemused crowd.
She even said: "I'm not supposed to be asking for alcohol right now but, Jesus Christ, get me some drink."
Introducing the song Intervention, which has the opening line "I got to save my baby," a picture of Rocco was used as a backdrop.
In a wavering voice, Madonna said: "I probably would have enjoyed myself a bit more on this tour if he hadn't have disappeared so suddenly. I'm going to dedicate this song to him."
Reports say that while Madonna was on stage performing, her ex-husband Guy Ritchie was going to court in London to further hash out the custody issues regarding their son Rocco. At the moment, Rocco refuses to go back home to live with his mother Madonna and is wanting to live full time with his dad Guy Ritchie in London. This has obviously had a devastating effect on the normally 'in control' pop star.
Following Madonna's emotional performance, it wasn't long before social media was flooded with reports from fans that were watching reporting that the singer appeared drunk.
One tweeted: "So far, Madonna is drunk and constantly missing cues."
Others insisted she was "s***-faced" and even said: "Madonna is drunk as f."
One fan added: "Madonna is performing to tell her son to come home. So moving. And drunk."
Madonna is set to kick off her Rebel Heart tour in Melbourne this weekend and fans are certainly going to be hoping for a less 'emotionally' charged show.
Photos courtesy of Instagram.