North West is Officially the Best Dressed Toddler in her Balmain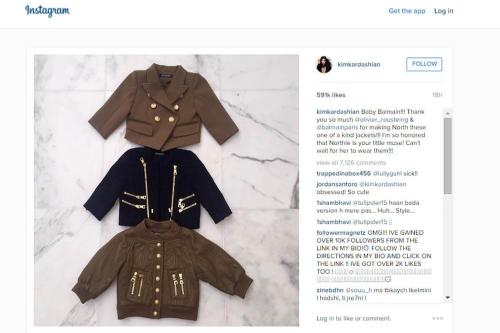 If your name happens to be North West and your parents are none other than Kim and Kanye, then it's safe to say you will not be wearing just any old hand me downs.
Kim Kardashian West posted a photo on her Instagram account showing the world that North has just acquired not one but 3 new custom made Balmain blazers.  They also happen to be mini versions of her mums vast collection of Balmain blazers. At last count Kim had 34 hanging in her closet.  No doubt North will grow out of her designer duds in a few months and then who knows, we may see them up for sale on Kim's ebay account!
The caption on the Instagram account read:  "Baby Balmain!! Thank you so much @olivier_rousteing & @balmainparis for making North these one of a kind jackets!! I'm so honoured that Northie is your little muse! Can't wait for her to wear them!!
Of course these jackets are by no means North's first designer items. Who can forget her super adorable ballerina ensemble where she was seen sporting her white, double breasted, wool twill Balmain blazer with gold buttons? Who else can say they rocked up to ballet class wearing a $2,000 jacket with their tutu!
Tutu much? Who can say!
I can't wait to see the new Kardashian- West offspring in his designer duds, which no doubt dad Kanye has already got lined up for him!
Images courtesy of Getty Images.