Roberta Williams Is Pallbearer at Her Ex-Father In Law's Funeral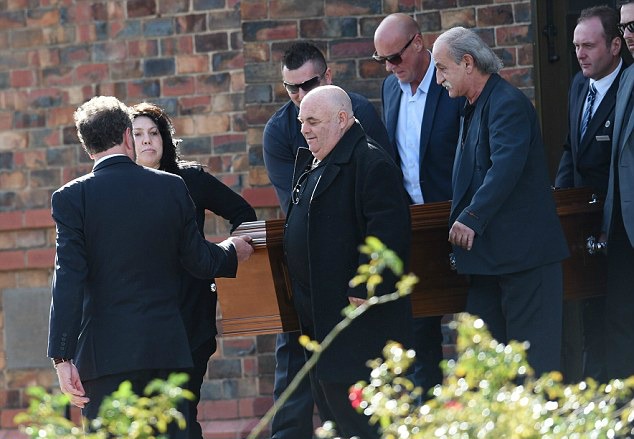 You could be mistaken for thinking you were watching a scene out of Underbelly as images from George Williams funeral appear online.
Roberta Williams, ex wife of slain gangster Carl Williams, was one of the pallbearers for her former father in law George Williams, 69 who died of a heart attack earlier this month.
Along with her teenage daughter Dhakota, and step-sister Breanne, Roberta was part of the group at the funeral which was held at St Therese Parish in Essendon, a north-west suburb of Melbourne on Monday.
She and her only daughter with Carl, Dhakota, 15 spoke at the church service in front of the mourners for her former father-in-law.
George Williams, who was the last living member of the Williams clan, is believed to have suffered a heart attack at home while he was installing a television set. He was immediately rushed to hospital but could not be revived. The father of Carl Williams spent time in prison with his son in November 2007 when he was sentenced to four and a half years jail for trafficking amphetamines.
When Carl Williams was bludgeoned to death in Barwon Prison in 2010 his only daughter Dhakota was 9 years old.
Photos courtesy of Google Images.