Schapelle Corby is pictured smoking and drinking beer with Balinese boyfriend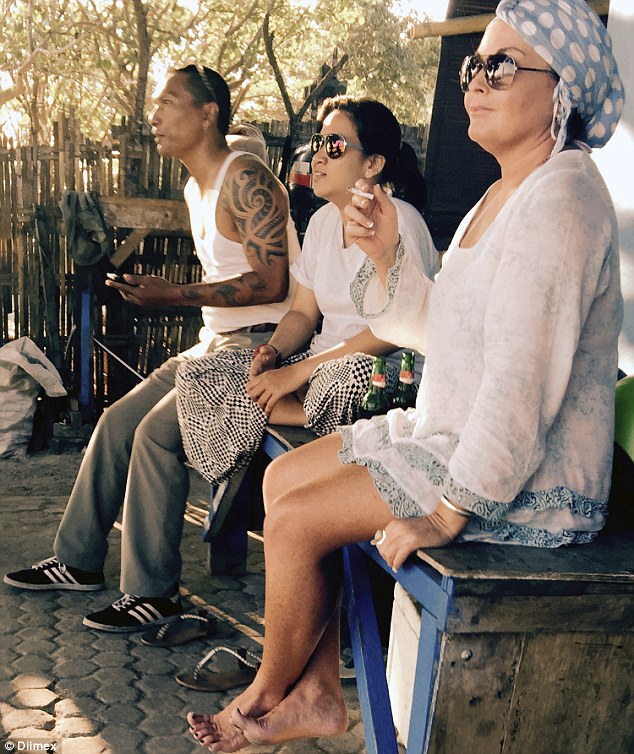 Drug smuggler Schapelle Corby, has been pictured drinking and smoking in Bali just weeks after reports surfaced that she was trying to fall pregnant with her Indonesian boyfriend.
Corby and her partner Ben Panangian, a former inmate she met in Kerobokan prison, were spotted smoking cigarettes and drinking in Bali this week.
The 38-year-old Australian was seen laughing with friends as they sat at a bar just off the beach.
Corby was dressed in a long-sleeved dress and had her hair tied back with a scarf.
The pictures come just after Corby told friends over drinks last month that she was 'off the pill and trying for a baby', according to a Sydney tourist who met her.
Her boyfriend also has hopes of proposing to her in the very near future:
'She is my girlfriend, but soon I hope she can be my wife – that's what I want in my heart,' the 36-year-old paddle board business owner told the tourist.
The convicted smuggler's Indonesian friends were reportedly so excited for the next stage in her life that they had already started referring to her as 'mummy Corby'.
Corby has been living with her sister Mercedes, since her release in 2014 in the tourist area of Kuta.
It is believed she works at her brother-in-law's surfboard and swimwear shop as she regularly reports to her parole officer.
Corby, who was originally jailed for 20 years but later earned a five-year sentence reduction, is required to live in Bail and report monthly to the Bali corrections board.
She is also required to dress respectfully and cannot be involved in the use or distribution of drugs.
Corby is on parole until 2017 but she has reportedly decided to stay on afterwards and raise a family with her boyfriend Panangian.
Unfortunately Panangian was arrested last year for alleged possession of marijuana and was later pictured in orange prison overalls and a black balaclava.
Corby and Panangian met back in 2006 while both were serving out their time for drug offences in Kerobokan prison.
What do you think of Schapelle's relationship? Is it a healthy one for her or will it just lead her down the wrong path again?
Photos courtesy of Diimex