Tori Spelling and Dean McDermott Mark Their 10th Wedding Anniversary With Matching Tattoos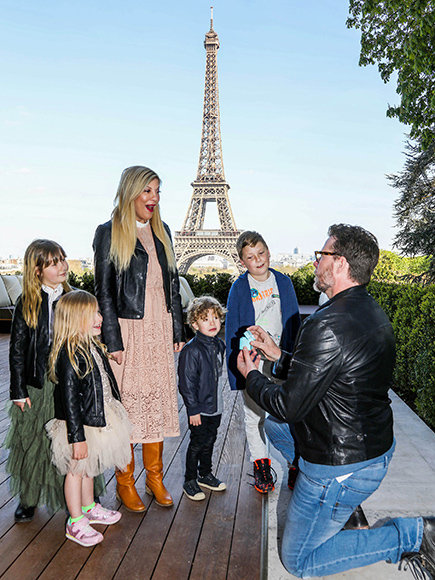 Tori Spelling and husband Dean McDermott celebrated their wedding anniversary in Paris and marked the happy occasion by getting matching tattoos.
They visited the Tin Tin Tattoo Parlor in Paris where they got inked with the French words: "Tout mon coeur, tout ma vie," which translates to "My whole heart, my whole life."
Dean, 49 was recently involved in a very public cheating scandal which nearly saw the demise of their marriage. But in true Tori style, she decided to document the whole drama for her TV show- True Tori. Unfortunately Dean decided he didn't want to continue with the show and pulled out. After attending rehab and a lot of counselling the couple have decided to give their marriage another shot and have even discussed how they are turning monogamy on it's head and deconstructing their relationship.
This latest trip to Paris with their kids Liam, 9, Stella, 7, Hattie, 4, and Finn, 3 gave Dean, 49 a chance to re-propose to Tori. Dean got down on one knee in front of Café de L'Homme overlooking the Eiffel Tower during the family vacation. Tori naturally said yes, and documented the whole thing through photos on her Instagram account. (see images below)
Photos courtesy of Instagram.