20 Hilarious Santa Photo Fails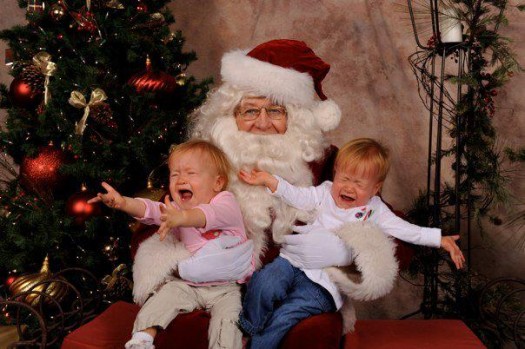 20 Hilarious Santa Photo Fails
We've been getting our family Santa photos taken for twelve years now. I can't say that it has been a rip-roaring success every year, usually with at least one child sulking or trying to wriggle away from the fat guy in red. But that's all part of the experience, right? To record a moment in time, whatever it may be. I treasure our Santa photos, and stick them all proudly on the wall with our Christmas decorations so we can all see how much everyone has grown.
I'm not sure if any of these pictures grace their family's walls over the festive season. But they certainly gave us a jolly good laugh or two!
1. Nobody is having fun
Poor little fella. Meeting some random dude dressed in red wasn't on his plan for today.
2. Double trouble!

These two really weren't having it! Nevermind, the photo was taken and now they have a beautiful memory to share of that time the twins lost their shit at the shopping centre.
3. Ho ho huh?
Is this not the most creepy looking Santa ever? Is he plotting something? Even Kermit has his doubts.
4. Santa's over it.
It looks like the cheer of the Christmas season may have taken it's toll on this weary Santa.
5. Wait… You're not the real Santa!
And I thought kids losing their shit was funny…
6. That time there was no back up plan
Looks like old Santy Claus got rolled in the carpark of the local RSL last night. But there was no one to replace him so he had to show up to work anyway.
7. Mum, I'm having second thoughts.
This poor little bubba's facial expression is priceless. Hopefully they got through the experience without shedding a tear.
8. Seriously Santa, WTF?
Did he get stuck into the Sudocrem before his shift?? What is that? I'd be as concerned as this little girl too!
9. Zombie Santa is in da house
At least I think that was the angle he was going for here. If not, he needs to seek medical attention immediately. Unless it's already too late, which might actually be the case, judging by the helping hand from the side.
10. Another teary Santa
Stop making Santa cry!
11. How could you, Mum??
You just know that there is a whole group of people trying not to laugh behind the scenes. Not to worry, I'm sure the child is fine now.
12. Nup, not having it. And neither am I.
Although to be fair, we can't be sure if they are screaming because of Santa or because they were dressed in matching tracksuits and socks. I'd be pissed too.
13. Form an orderly queue, ladies.
Those coffee cups look a little suss if you ask me. Still, they're not screaming so…..
14. Alright, I'll give him this one.
The question isn't "why is he crying?", it's "why isn't she crying??" Or maybe she's just in her happy place.
What sort of freaky-arse Santa applies that much makeup/face paint? Dude.
15. Santa's had enough of your shit, Daniel.
I'm not sure if this poor Santa needs a new career, a double espresso, a bottle of vodka or all three. I think it might have been his last Christmas at the mall.
16. We're all confused
This little dog looks like he has seen his future. And he's not liking it one bit.
17. Not even a present can make it better
This little girl has done the jellyfish in a vain attempt to nope the f*ck outta there. Unfortunately for her, Santy has seen this shit before.
18. Can you imagine the noise?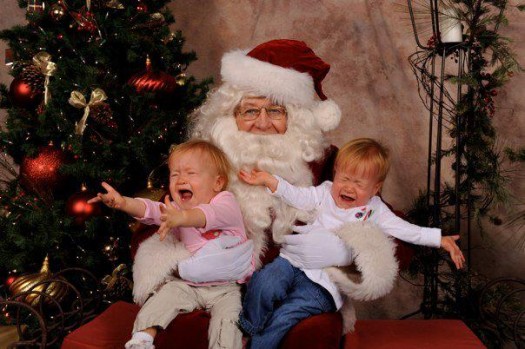 I can see the mum standing behind the photographer/elf. "Just take the picture. Don't worry, just take the picture, I'll get them some KFC chips and they'll be fine in three minutes."
19. Hell to the NO
This poor child has even lost a gumboot in her attempt to flee the fat man, while her sibling has accepted her fate calmly but defiantly.
20. And finally, if you can't beat 'em, join 'em. 
Christmas memories aren't always happy and cheery, just make the best of whatever comes your way!
Do you have a funny Santa picture fail experience?