Add a Little Magic to Your Skincare Routine: Herbal Hiraeth's 'My Ritual Beauty Box' Review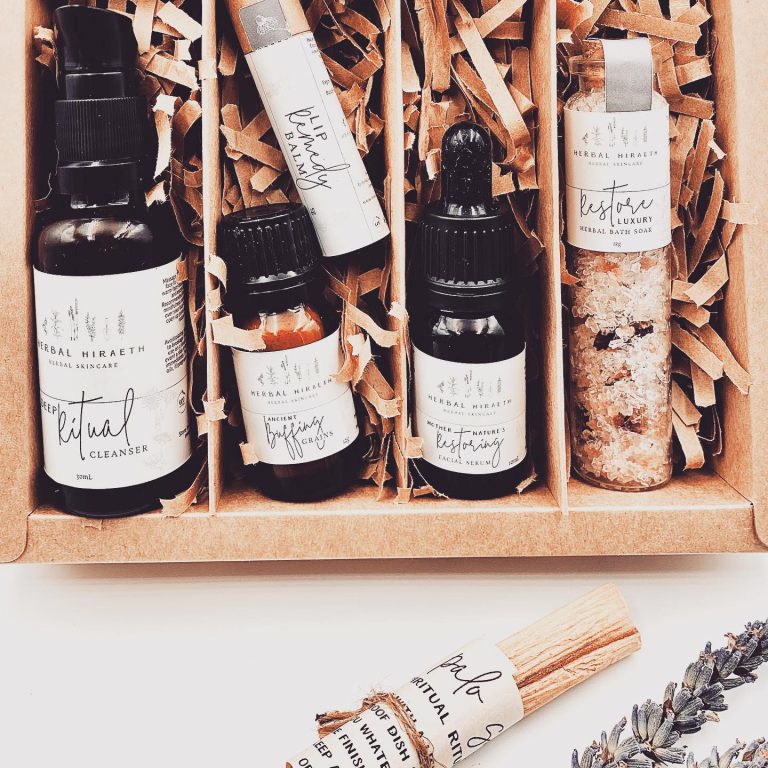 Add a Little Magic to Your Skincare Routine: Herbal Hiraeth's 'My Ritual Beauty Box' Review
Never have the words 'we live in crazy times' seemed truer than right now, eh? One minute we are ringing in the new year of 2020, planning family holidays and promising ourselves that this is going to be our year, and the next we are in the throws of a global pandemic, mass unemployment and trying to 'home school' our children.
One thing that has helped me personally to deal with the increased mental load that has characterised the last five months, has been to cultivate a self-care ritual. It sounds so cliché to say, 'how can you care for others when you're not caring for yourself?' But let's not forget why certain saying become clichés – because fundamentally, they are true! Making even just 15-20 minutes a day my 'non-negotiable me-time' has helped me to keep on an even keel (most of the time) in these incredibly stressful times. And when I say 'non-negotiable,' I mean even with myself. We are often our own worst enemies when it comes to putting our own needs last ladies, and it really does no one any favours. I can say with absolutely certainty that I am a much better wife, mother, daughter, sister and friend when I am not tired, stressed, resentful or anxious.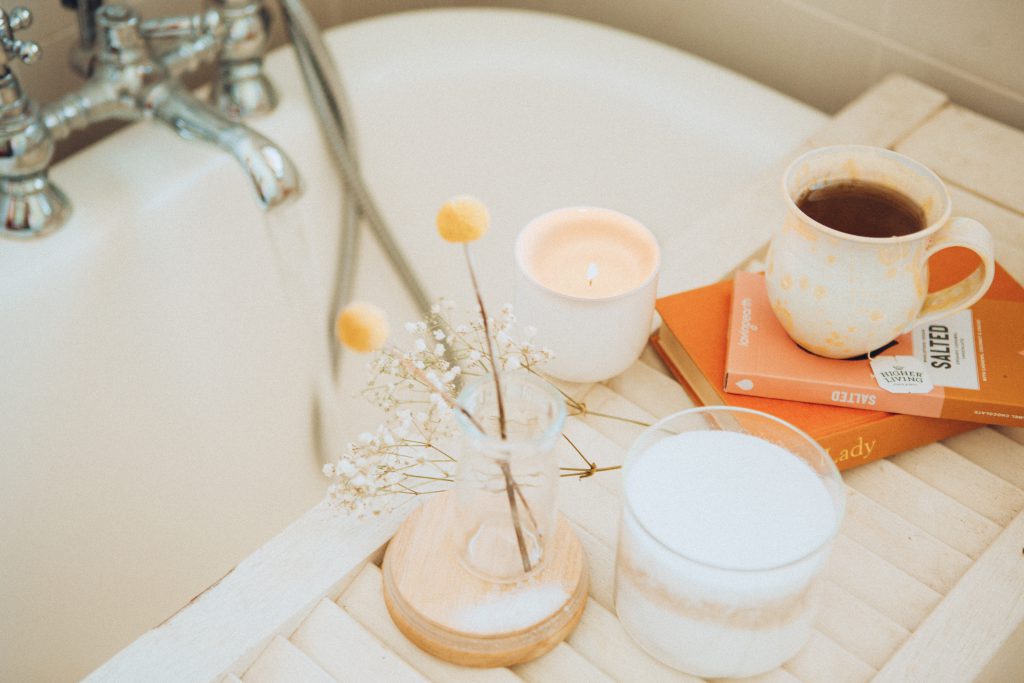 If you've been here before, you may know that I am a passionate advocate of exercising to improve your mental health. Even through these sometimes extremely overwhelming months, I've managed my anxiety by working out. But at times, I needed just a little something extra (especially in the evenings when the weight of the day had started to press down heavy upon me again). It's surprising how important a simple thing like having a soak in the bath, reading a book, or listening to meditation can become to your own self-care routine once you start investing time in it – because you start to feel the benefits of it and crave that time out just for you.
Fortunately for me, Candice, a qualified herbalist and skin care formulator who handcrafts all of her Herbal Hiraeth skincare products in Western Australia, recently sent me the 'My Ritual Beauty Box' to try. Even before I opened the box, I have to say my curiosity was picqued by the name alone. Being half Welsh (on my mother's side) and having grown up in Wales before moving to Australia, I immediately recognised the word Hiraeth to have a Celtic ring to it, and was intrigued to read that hiraeth is indeed a Welsh word (pronounced here-eyeth) describing the nostalgia and yearnings for lost places or memories from the past.
Herbal Hiraeth represents the souls longing for the herbal connection it once knew, the ancient wisdom of herbs, a love for the earth and a search for wellbeing and health.
Herbal and Botanical Skincare is a wonderful way to use herbs and nature to support healthy skin and enrich your life! Our skincare is carefully formulated with specific herbs and botanical ingredients based on their energetic and actions to skin and the body ensuring you are getting the most from your skincare. Herbs and natural oils have powerful, nourishing, anti-ageing and soothing properties just to name a few.
This beauty box contains all you need for your daily dose of self love!
Beauty Box includes –
Deep Ritual Cleanser 30mL
Ancient Buffing Grains 10g
Mother Nature's Restoring Facial Serum 10mL
Lip Remedy Balm 5g
Restore Luxury Herbal Bath Soak 22g
Usually, my skincare routine can be a little, let's say 'slap-dash,' and is usually performed between getting kids in (or out) of bed, and running around the house trying to keep kids on task and out of the door on time. Now though…I actually take this quiet time for myself, to ground myself in the present and perform my beauty ritual in a mindful way. I actually look forward to this 5-10 minutes at the start and the end of the day, to do something that feels nourishing not only to my body, but to my whole being. They feel and smell incredible and using these gorgeous skincare products feels less like a boring chore and more like a magical ritual that centres and calms me. It might sound a bit dramatic, but to me it feels like washing the negative energy away. I love it!
I also love that Herbal Hiraeth uses all natural ingredients and organic where possible. There is no use of any harmful additives such as parabens, GMO's, PEGs, synthetic preservatives flavours of fragrances. Only the highest grade of herbs and oils are used sourced from reputable Australian suppliers. Their products are eco-friendly, vegan, cruelty free and palm oil free.
A Little About the Products in the My Ritual Beauty Box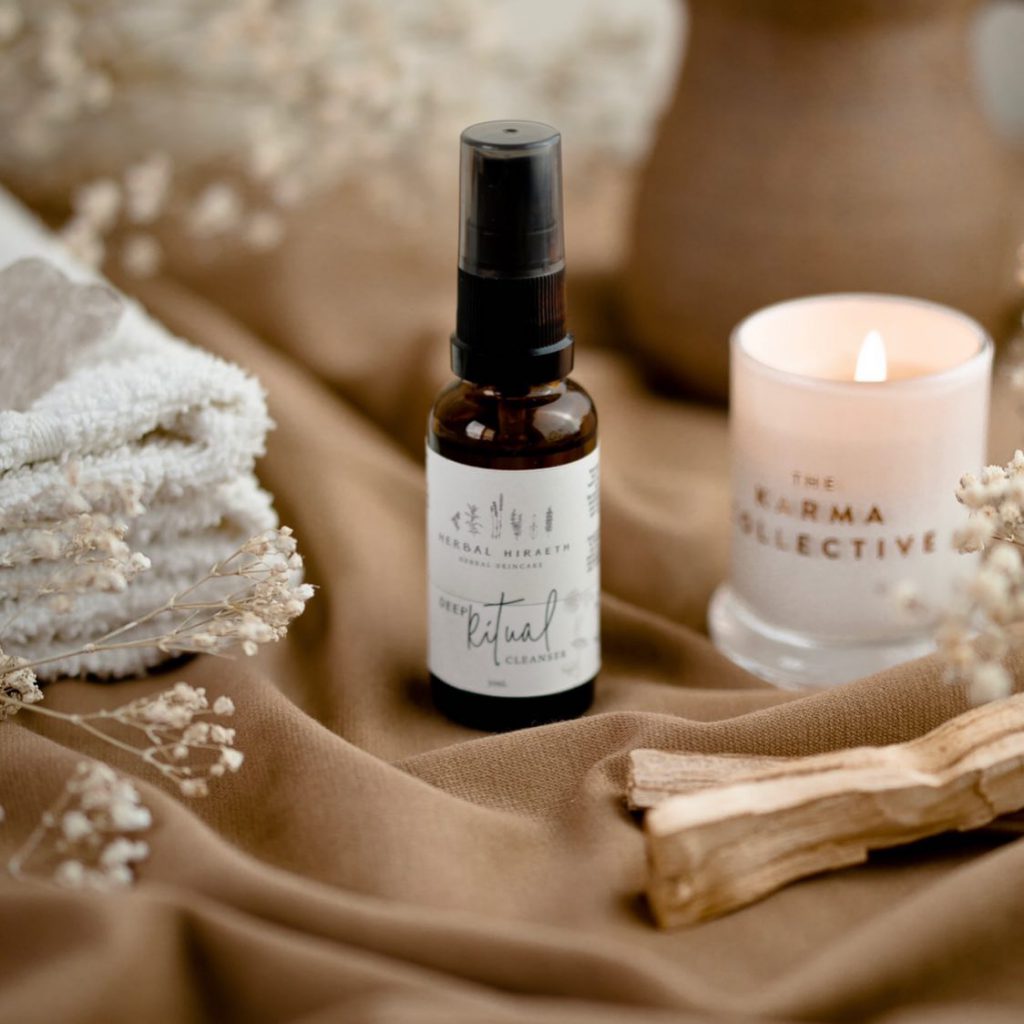 Deep Ritual Cleanser
Deep Ritual is packed full of herbal and botanical oils which work to clear out blocked pores and cleanse skin whilst balancing the skin's natural sebum, which means it is not only great for dry and normal skin, but beneficial for oily and acne prone skin. The vitamin enriched oils provide antibacterial action and fight acne, bringing a balance to the overproduction of oils that can lead to acne. Unlike harsh chemical cleansers which strip the skin of all oil leaving it tight and dry therefore causing overproduction of oil as your skin tries to counteract this, Deep Ritual leaves skin hydrated, soft and fresh.
Herbal & Botanical Remedial Benefits
Organic Jojoba Oil balances the skin's sebum levels to even out skin's oil levels. Packed full of vitamin A and E it provides an abundance of antioxidants to help eliminate impurities from skin.
Organic Sesame Seed Oil is a beauty powerhouse, packed with nutrients including a rick source of vitamin E, B complex and D. It helps to clear blemishes and clean pores, it deeply penetrates the skin and helps to smooth and improve skin appearance.
Organic Calendula Oil contains powerful antibacterial properties that not only help to clear away blemishes it also moisturises and nourishes dry skin.
Cedarwood Oil deeply cleanses the skin by drawing out impurities from pores, it also has astringent properties which is effective for tightening facial skin giving it a youthful appearance. Its woodsy grounding aroma attunes your body and mind to nature and the stable balance of the earth.
Patchouli Oil helps to clear blemishes and dry skin conditions, as well providing its deep earthy grounding floral scent to connect you to the earth.
Frankincense Oil is beneficial to our body as a natural astringent that tightens and lifts skin and reduces the appearance of fine lines, large pores and wrinkles. It has a unique luxurious aroma of a sedative earthly scent.
Geranium Oil promotes beautiful and radiant skin by cleansing blemishes and reducing the appearance of fine lines and wrinkles.
Ancient Buffing Grains
Ancient Buffing Grains lightly exfoliates your gentle skin unblocking pores and removing dry surface patches leaving your face glowing, radiant and silky smooth. The mix of herbal and plant grains work to deeply cleanse, even skin tone, rub away impurities and soften skin. An eco-friendly alternative to harmful micro bead exfoliants and suitable for all skin types.
Herbal & Botanical Remedial Benefits
White Kaolin Clay draws impurities from the pores, removes dead skin cells, purifies, cleanses and detoxifies the skin leaving you with a beautiful radiant complexion.
Tea Tree Powder a natural exfoliant that works to unblock pores, remove dirt, grime and makeup, and deeply cleanse skin with its antibacterial properties leaving skin refreshed with an invigorating clean scent.
Organic Marshmallow Root Powder is loaded with mucilage which has the ability to not only improve the skin's ability to retain moisture; it also hydrates, smooths, softens and balances skin.
Organic Lavender Powder is packed full of antioxidants that help to detoxify skin removing pollutants and impurities from skin. Lavender helps to cleanse blemishes and leave skin radiant and supple.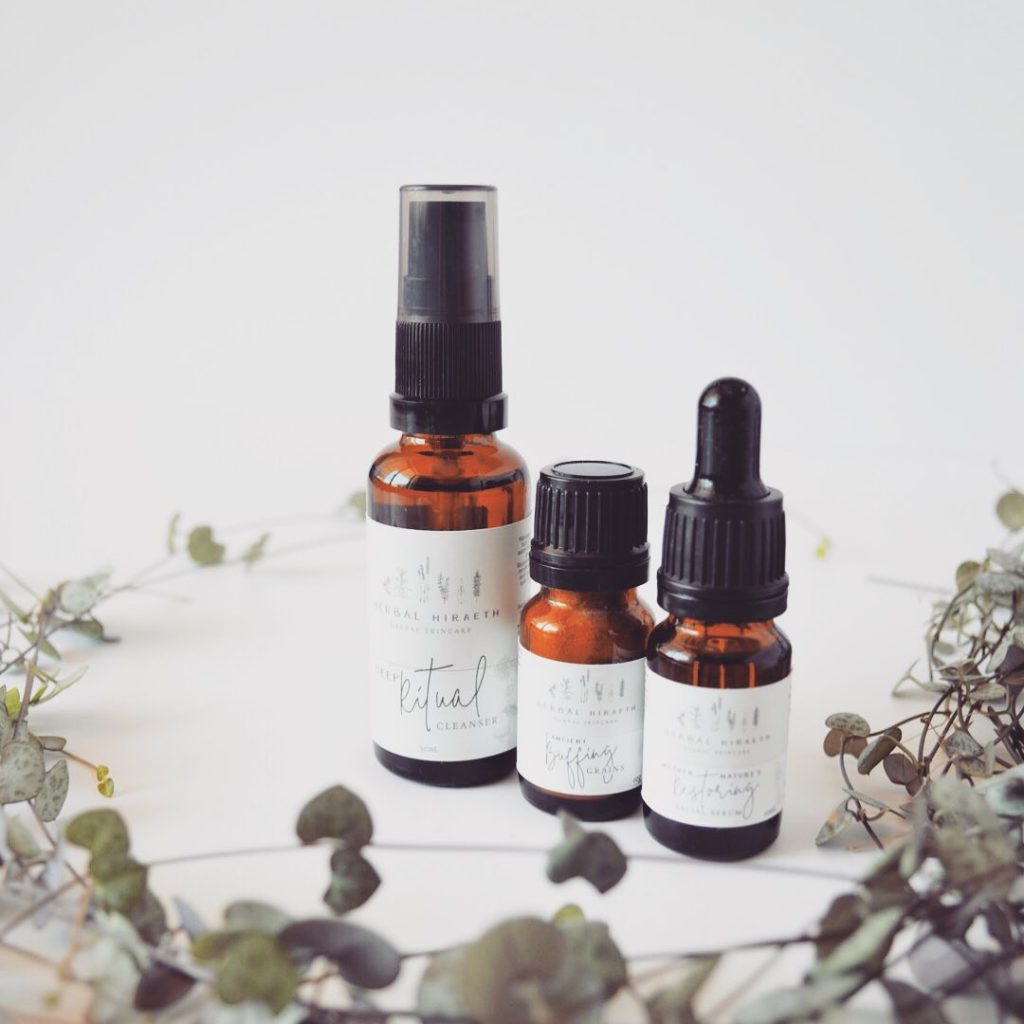 Mother Nature's Restoring Facial Serum
Mother Nature's Restoring Facial Serum is an intensely rich serum loaded with antioxidants to fight free radicals and toxins that lead to early aging to keep your skin youthful and plump. With hydrating, balancing and moisturising herbal and botanical oils, your face is left hydrated, smooth and soft. With potent herbal oils such as carrot, pomegranate, frankincense, geranium and myrrh it works to nourish and even skin tone and reduce the appearance of fine lines, rectify tired and dull looking skin and remove grey circles from under the eyes. It is fast absorbing meaning you can put it on straight under makeup and be prepared for the day! It is beneficial to all skin types as it works to bring your skin's natural oils into balance.
Herbal & Botanical Remedial Benefits
Organic Jojoba Oil balances the skin's sebum levels to even out skin's oil levels. Packed full of vitamin A and E it provides an abundance of antioxidants to help eliminate impurities from skin.
Squalane (Olive) Oil is a wondrous moisturising agent that leaves skin super soft, plump and hydrated. It helps to regulate excess oil production and hydrate dry skin. Most importantly it helps to fight free radicals from environmental elements and pollution that can cause premature aging.
Organic Carrot Oil is packed full of vitamin A, E and beta carotene to provide a rich source of antioxidants for your skin. Its rejuvenating properties help to balance dry skin, reduce the appearance of aging and lighten dark circles under the eyes.
Pomegranate Extract is rich in vitamin C and a powerhouse of antioxidants to protect against oxidative damage and fight free radicals. It works to leave skin radiant and youthful for longer.
Myrrh Oil is a well-known remedy for skin anti-aging that helps to reduce the appearance of fine lines and wrinkles. It is high in antioxidants that help fight free and reduce theenvironmental stress on your skin keeping it healthy and youthful.
Sandlewood Oil balances out skin tone and the skin's natural sebum. It also helps eliminate and clear blemishes. It is prised on its sweet woodsy and earthy aroma.
Vitamin E contains powerful antioxidants that promotes youthful and refreshed looking skin.
Lip Remedy Balm
This exceptionally smoothing and hydrating lip balm relieves dry and chapped lips. Bundled full of nutrients it helps to soften and moisturise dry lips. Packaged in an eco-tube it's a NO WASTE 100% recyclable product.
Herbal & Botanical Remedial Benefits
Organic Jojoba oil is high in Vitamin A & Vitamin E and provides an excellent remedy to dry and chapped lips and helps protect the lips natural oils.
Roman Chamomile oil works to soften and smooth dry and chapped lips, leaving them supple and soft.
Vitamin E a powerful antioxidant essential for the maintenance of healthy lips, it helps keep lips youthful and radiant with its smoothing benefits.
Restore Luxury Herbal Bath Soak
RESTORE your skins beauty with these beautiful scented salts. Embrace your inner beauty whilst sitting back in a warm scented bath of beautiful roses. These salts help to nourish and soften skin.
The Herbal Hiraeth 'My Ritual Beauty Box' makes the perfect gift for someone else or for yourself. You can find this and other gorgeous Herbal Hiraeth products for purchase from the Mums Lounge online store here. We could all do with a little magic in our lives right now.