5 Technological Hits and Misses Predicted by Back to the Future II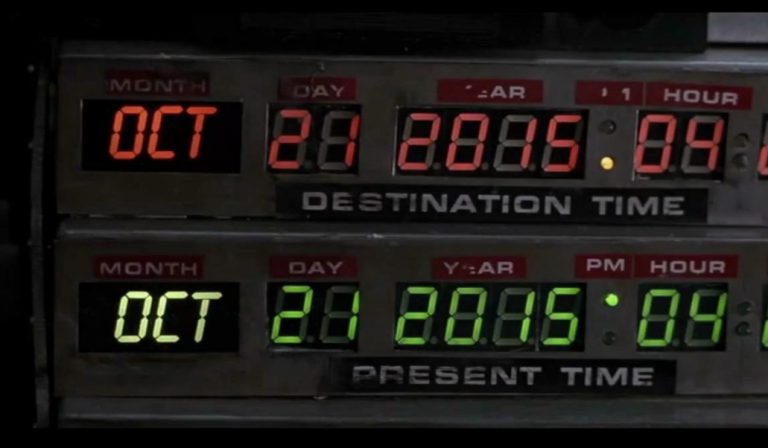 The date that every pop-culture enthusiast knows, 21st October 2015, is fast approaching. The 1989 classic, Back to the Future Part II, showed Marty McFly screech on in to 2015 in a time-travelling car on this exact date.
The once outlandish inventions that the late 80's movie displayed are now seen as the norm, such as video conferencing and facial recognition software, leaving many of us wondering what the next tech advancement will be to just scrape into the looming deadline of 21st of October.
Dale Beaumont, owner of the Business Blueprint Channel shares the five predictions from the movie Back to the Future Part II that came true and five predictions that were horribly off-the-mark.
Predictions that came true:

1. Video glasses.
With the introduction of Google Glass and Sony Glasstron in 2013, the two modern technologies ran circles around the chunky-styled virtual reality glasses featured in Back to the Future Part II. Exciting TV addicts around the world, the devices have the ability to stream channels for a small screen TV experience.
2. Flat screened TV's.
Wall mounted flat-screened TV's seemed only a futuristic possibility in the late 80's, something that is now one of the earlier advancements of the television. Along with this 'now old' technology, the advancement of Apple TV has allowed live-streaming channels like Business Blueprint to be viewed by more people than ever before, allowing people around the globe to access instant and hands on tools to help their business grow.

3. Facial recognition software.
Facial recognition was one of the most accurate predictions that the Back to the Future trilogy made. Today's facial recognition software has a creepy resemblance to the way it was portrayed in the 1989 film.

4. Finger print recognition.
Finger print recognition is not unfamiliar in this day and age, with most of us unlocking our mobile phones with a single finger tap. New homes have now begun to feature a finger print access system, similar to the one in the 80's film, making our generation just that little bit lazier than it already is.

5. Tablet computers.
When Marty McFly meets Doc at the famous clock tower, he is holding what appears to be the prediction of tablet computers. Tablet computers are now popular across the globe, where 233 million tablets are predicted to be sold in 2015 alone.
Predictions that went horribly wrong:

1. Expandable pizza
Our scientists may have invented a 3D food printer but we're still left staring at the oven for a torturous 10-20 minutes. Expandable pizza will unfortunately still remain a part of our foodie dreams.
Dog walking is still a chore for pet lovers around the world, and sadly no automatic dog walking technology on the cards for the near future.

3. Thumb print payment methods
Even though we can pay for items with our phones, wireless cash, and tap and go cards, thumb print payment methods are still left up to future generations to create.
4. Mobile trash cans
Our walks to the bin will continue to be just as gruelling, the streets will not see robotic bins that move anytime soon.

5. Dine and exercise
Luckily the prediction of restaurants seating customers on exercise bikes to eat is not a technological advancement we have made giant leaps towards.
To claim your free account visit www.businessblueprint.com and sign up to receive access, news and updates.
About Business Blueprint
Business Blueprint's mission is to continue to be Australia's #1 Business Education Program, by consistently offering their members ongoing value, and ensuring they have access to Australia's largest library of systems, templates, and step-by-step training videos. The result is Business Blueprint members are able to make changes and implement change faster, and get everything they need to succeed all in one place.