The $8 Dresses That Made An Appearance On The Brownlow Red Carpet!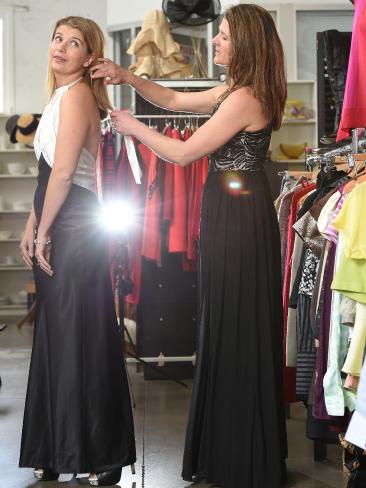 Let's not kid ourselves and pretend we watch the Brownlow to see who actually wins the award- I mean I'm not even sure what it actually is. A trophy, a medallion or what?
The Brownlow to me is all about seeing what the WAGs are wearing on the red carpet. It's about the fake tans, fake lashes and fake smiles! It's about seeing which J'aton Couture gown Rebecca Judd is wearing and how many WAGs Alex Perry has managed to dress.
What it's not usually about is seeing anyone wearing an outfit from…an OP SHOP! How scandalous! But I bet if we never told you, you would never have known anyway.
Three Saints wives said no to designer frocks and yes to gowns from a South Melbourne op shop.
So proud of 3 inspiring women supporting @ScdHrtMission on the red carpet tonight #Brownlow #HowIwantToBe pic.twitter.com/CzGAkiOfMz

— Matt Finnis (@Matt_Finnis) September 26, 2016
Jo Richardson and D'Arne Finnis picked up their dresses for the big night for $8 from the Sacred Heart Mission Op Shop in South Melbourne.
D'Arne Finnis, wife of Saints chief executive Matt Finnis, said wearing the second-hand garment — bought for $8 — was about raising the profile of the Sacred Heart Mission, a charity strongly affiliated with the club.
"They do such an amazing job for the community of St Kilda and both the club and Sacred Heart come from that community and are supported by that community," she said.
Mrs Finnis said she came up with the idea of dressing in an op shop dress "by chance" about two years ago.
"Around the time Matt got the job, I went down to the mission to show the kids St Kilda and where the hub of it all is and explain the importance of the Sacred Heart Mission to the St Kilda Football Club and vice versa and we happened to see a dress there and I bought it and wore it to the Brownlow," she said.
Mrs Finnis said she doesn't care for labels one bit! "As far as I'm concerned it's Sacred Heart brand," she said. "It's the brand of Sacred Heart that is important to us and that's why we're doing it.
"I started volunteering (there) earlier this year and it's really touched my heart how important their work is for so many people in the community."
Mrs Finnis said she hoped to see more people "getting on board" in future, including players' wives, and was planning to hold a "gown drive".
"Every female has copious amounts of dresses in the cupboard they flick through every time there's a function and it would be great if we could get them to donate some of the ones they don't wear any more," she said.
"The mission could then sell those dresses — every $8 provides three meals for someone, so it's a small gesture that creates a huge impact on people's lives."
What a fantastic initiative from these women! Let's hope more WAGs jump onto the op shop trend to promote a more sustainable way of shopping and dressing.
Photos: Twitter and David Smith