Ajay Rochester Posts Shocking Photo In Response To Michelle Bridges' Fat Shaming Comment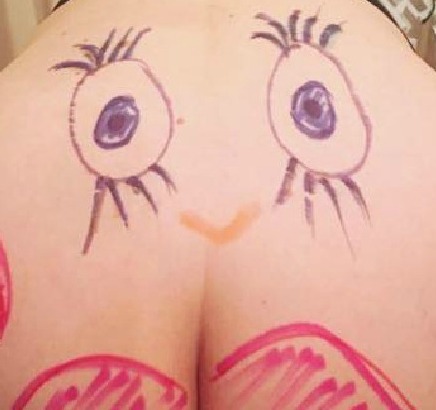 Michelle Bridges caused quite a stir recently when she controversially stated that she "had never met a happy morbidly obese person." The trainer made the comment while being interviewed for Australian Story on the ABC.
Among the celebrities who came forward to express their disgust at the blanket statement made my Bridges were Chrissie Swan and Meshel Laurie- both plus size.
However it was former Biggest Loser host Ajay Rochester that really had a comeback for Bridges. She posted this photo on her Instagram account (which has since been removed) to show exactly what she thought of the comment made by Bridges.
Yep, that's a picture of Aj's butt, with a face drawn on it and huge lips. Pretty sure the message is crystal clear Aj!
In her blog, Rochester went into more details, calling Bridges  "fat-phobic."
"Michelle is fat phobic because she probably has an eating disorder. I won't even go into the fat jokes and taunts she subjected me to on a daily basis, sometimes outside my door on set, sometimes outside my dressing room window and other times standing behind me during publicity shoots like this one," she writes, posting the following picture:
"My face says it all … … she and Shannon stood behind me and made fat jibes and comments a day after they had laughed and made comments about thick thighs and cankles as I walked past them out the door to an event and feeling pretty damn sexy at a healthy size 12."
Rochester says that during their time filming on The Biggest Loser, "so many days [Bridges] would turn up to set at 4pm and boast she had done five classes and not eaten a thing like it was something she was proud of."
"I knew her pain and struggle and the self hatred that fuelled her but her dollars depend so much on her hating fat people and she sees it disappearing faster than Oprah's thighs eating bread on Weight Watchers. As Biggest Loser ratings reach all time lows every year she needs people to lack a healthy self esteem because her bank account depends on people hating themselves as much as she does…….drink her sugar free Kool Aid and be 'happy'."
Rochester continued to voice her feelings:
"I pity Michelle, I really do, because for all her millions of dollars she has acquired trying to inspire people, she has revealed the fraud that she is. She doesn't care about you — she only cares about telling you you are worthless, worth NOTHING unless you subscribe to her church of self hatred."
Bridges has yet to make any statement regarding the backlash she has received about her 'morbidly obese' comments.
Photos courtesy of Google Images