Amal & George Clooney Had Their Twins and Social Media Is Full of Joy
Amal & George Clooney Had Their Twins and Social Media Is Full of Joy
After George and Amal Clooney welcomed their infant twins, the internet was quick to share its joy and congratulations with the pair on social media.
Ella and Alexander Clooney were born on Tuesday, a publicist confirmed to People in an amusing statement.
The 56-year-old Oscar-winning actor-director met Amal, an international human rights lawyer, in 2013 and they married a year later. The couple announced in February that they were expecting twins.
A source close to the couple's family told the magazine: "This is very good news. We're very, very happy. George is going to be a great father of twins."
Amal's boss, Geoffrey Robertson QC of Doughty Street Chambers, also tells People he is elated for the couple: "All I can say is that it's a great co-production."
The news of the first set of celebrity twins to be born in 2017 (Beyonce's bubs are due in two weeks) reached twitter immediately, with many people quick to congratulate the new parents.
Welcome to the world, Ella and Alexander Clooney. Congratulations, George and Amal, or as I'm now calling you, Ocean's Four.

— Ellen DeGeneres (@TheEllenShow) June 6, 2017
CONGRATULATIONS! Human rights lawyer Amal Clooney, a pioneer for refugees, and her husband George are parents of twins Ella and Alexander.

— Anne Frank Center (@AnneFrankCenter) June 6, 2017
I think you mean Amal Clooney, noted human rights lawyer, gave birth to twins. #FixedItForYou

— tetisheri (@tetisheri1972) June 6, 2017
George Clooney's wife gave birth to twins. In related news, I am no longer the galaxy's most handsome father of twins

— Darth Vader (@DepressedDarth) June 6, 2017
George and Amal Clooney gave their children normal names. I'd expect nothing less of a human rights lawyer and her husband.

— Brittany G (@Fibby1123) June 6, 2017
George Clooney is going to be needing that #Nespresso #coffee for those late nights with the twins #congratulations

— fiona hoareau (@FionaHoareau) June 6, 2017
I can finally call George Clooney a dilf. Life is grand

— Heather Nausid (@heatherwhoa) June 6, 2017
Congratulations Amal and George!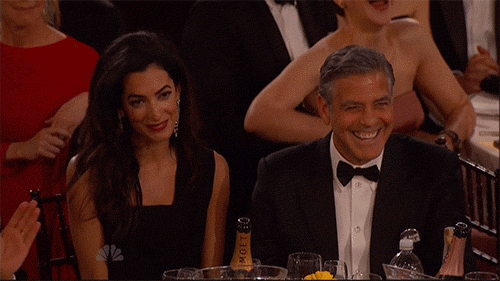 Source: Giphy and Twitter