Amy Schumer Fires Back at Fan Who Asks How She'd Cope if Her Son Had Autism Too!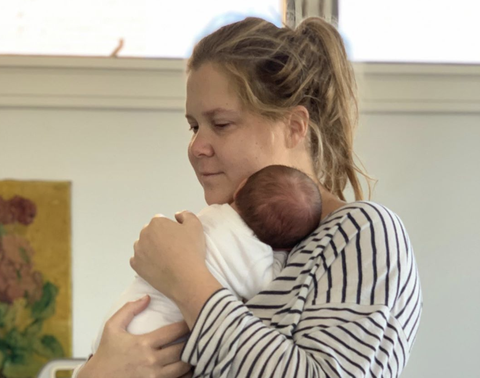 Amy Schumer Fires Back at Fan Who Asks How She'd Cope if Her Son Had Autism Too!
Comedian and actress Amy Schumer shared a photo recently on Instagram with son Gene asking her fans if they'd be interested in a docuseries about her journey with pregnancy and childbirth.
The consensus was a resounding YES with positive comments for the mum ranging from "well done mama, this would be amazing" to "would definitely love to see how you coped with pregnancy!"
One fan however disagreed and told the actress that she'd had enough of 38 year old Amy's sharing on social media. "Not really, honestly," the commenter wrote. "I think you're great, I just feel like it's self serving and overdone. I'd like to see a documentary of you discovering your mate is diagnosed with autism and how you cope with the possibility that your child will be on the spectrum…."
The comment was a red flag for Amy who took offence with the word "cope" when it came to her husband and their son.
"How I cope? I don't see being on the spectrum as a negative thing," Amy responded. "My husband is my favourite person I've ever met. He's kind, hilarious, interesting and talented and I admire him. Am I supposed to hope my son isn't like that?"
Amy has been very open with her husband Chris Fischer's ASD diagnosis, a "developmental disorder that affects communication and behaviour," and fans are thankful to the actress for bringing visibility to people with ASD.
Following Amy's response, the commenter must have had time to think about things and issued an apology to the star for her "poor choice of words." Hundreds of fans praised Amy's response.
"Your comment set my hair on (fire emoji) It's called love, joy, downright perfection! My darling grandson is on the spectrum and he gives off more light than the Sun!!," one person wrote. Another said: "this might be the greatest response in the history of Instagram comments."
View this post on Instagram
In hilarious Amy style, she followed her initial response with: "I will pay attention and try and provide him with the tools he needs to overcome whatever challenges come up like all parents. I'd be disappointed if he liked the Big Bang theory and nascar not if he has ASD."
Hahahaha! Love your work Amy! Never change.
Images: Instagram