Amy Schumer Shared A Photo Of Herself In Hospital Undies And We Love Her For It!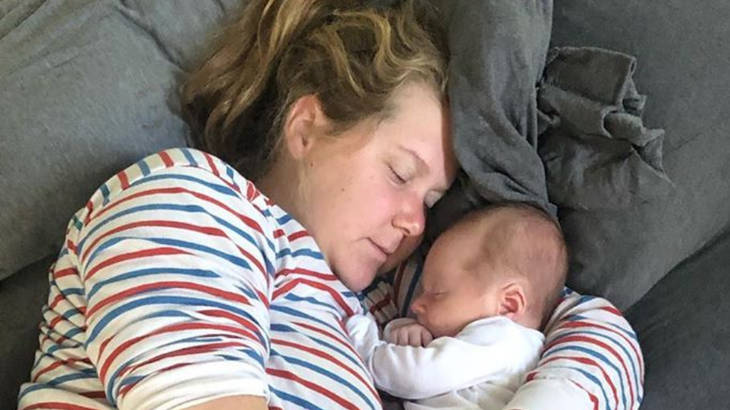 Amy Schumer Shared A Photo Of Herself In Hospital Undies And We Love Her For It!
Amy Schumer has always been one of the most down to earth celebrity mums and her latest Instagram post is no exception. After giving birth to her first son Gene in May this year with husband Chris Fischer, the comedian has done nothing but share the most relatable photos of her post partum journey.
The image shows the comedian looking super comfy in a bra and hospital undies while taking her son for a walk in his pram. Sure the new mum isn't wearing much but at least she has sensible walking shoes on!
Schumer has never been one to shy away from her journey as a new mum so seeing the pic on Instagram of her wearing those high waisted hospital undies should come as no surprise to anyone.
View this post on Instagram
"5 weeks. Hospital underwear for life!" Schumer wrote about her Instagram photo.
Yes girl! Those hospital undies are the bomb! They do an awesome job at keeping everything tucked in while working as a natural contraceptive at the same time.
Naturally the mummy shamers came Schumer after she shared the raw and honest photo. Many told her to 'put things away' and added that Schumer shouldn't 'be acting like this now that she's a mum.' Whatever that means!!
Schumer didn't take the criticism lying down and took to Instagram with a second and third photo in an attempt to hit back at those who dared to knock her hospital undies.
"I'm really sorry if I offended anyone with my hospital underwear. Except I'm just kidding.#csection," Amy wrote in a separate Instagram post from her Instagram Stories, showing photos of herself and her C-section scar.
Schumer's celebrity pals as well as her fans came out in full support of the new mum who dared to share her post partum undies!
It's fair to say that what we all love about Amy Schumer is her ability to make her baby journey so damn relatable! Whether it's sharing photos of herself expressing milk or just lying on the couch with her baby looking absolutely frazzled we love the fact that she's just like us. When we see new mums who seem to have all their shit together it just adds unnecessary pressure to others who are struggling with night feeds and trying to adjust to life with a new baby.
Thank you Amy, for showing us mums out here still wearing our comfy undies 12 years later that it's okay. That we don't need to be perfect all the time and that we don't need to have everything under control. Thank you!
Images: Instagram