Balmain To Launch A Children's Line Inspired by North West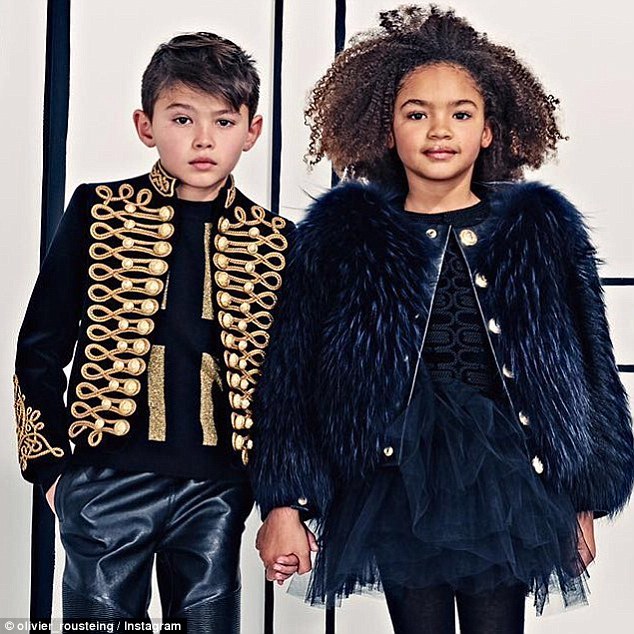 If you've always coveted North West's look for your own child then this is your lucky day! Fashion house Balmain have announced the launch of a new children's fashion line. Olivier Rousting, 30 made the announcement via Instagram. The fashion giant's creative director says his inspiration was definitely Kim Kardashian and Kanye West's daughter North.
'I think I first thought about designing kidswear when I dressed North,' Olivier says of the line. 'I had a conversation with Kim, and that was the beginning of how I really understood that the Balmain universe can also belong to kids.'
The announcement via Instagram features photos of 4 children, one of which is a dead ringer for North West. The caption reads: 'Welcome to my new Balmain Kids!'
The pieces in the kid's collection look to be mini-me versions of Olivier's designs. The 55 piece collection for both boys and girls aged 6 to 14 have more than a touch of military influence. Just think of the custom made jackets North West often wears over her tutus for dance class.
The price tags are also very designer with the costs ranging from about $205 for a sleeveless T-shirt to about $5,950 for a black embroidered dress.
The Balmain brand is not only popular with North and her mum, but is a favourite of the whole Kardashian clan. His designs are more often than not chosen to be worn at red carpet events and functions by all the Kardashian-Jenner girls. The family is often photographed out to dinner with Olivier, who has been a close friend of the Kardashians for years.
In fact Kylie and Kendall Jenner were part of a celebrity studded campaign for Balmain which also featured model sisters Gigi and Bella Hadid.
Balmain caused a frenzy last year when it collaborated with fashion brand H&M. The clothing line saw items being snapped up at record speed. In fact clothing from the Balmain for H&M line were so sought after that they were being sold on Ebay for over double the retail price!
Photos courtesy of Instagram and Getty Images