Barack Obama and Wife Michelle's Latest Photo Is Relationship Goal Material!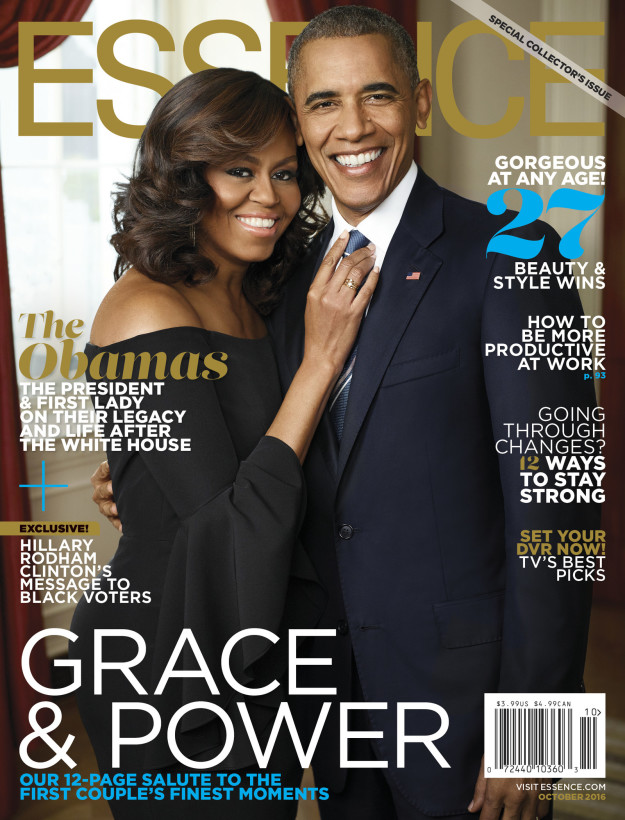 It's definitely the end of an era as we prepare to say good bye to President Barack Obama and his family from the White House. After eight years in power, it's safe to say the Obama's have been one of the most loved and popular couples in recent American history.
Not since Jacqueline Kennedy, has the White House seen a First Lady with as much grace, dignity and class as Michelle Obama.
Essence magazine has the inspiring couple on their cover this month in which they talk about their life in the White House, the state of the nation and what they hope to leave behind.
"…I can unequivocally say that America is better off now than we were when we came into office. By almost every economic measure, we're better off," President Obama said. "But having said that, we still have a lot of work to do."
The Obamas have brought a refreshing change to the White House and politics in general and Michelle says that she hopes their visibility will continue to inspire children all around the world.
"I think when it comes to Black kids, it means something for them to have spent most of their life seeing the family in the White House look like them," Mrs. Obama said. "It matters. All the future work that Barack talked about, I think over these last few years, we've kind of knocked the ceiling of limitation off the roofs of many young kids; imaginations of what's possible for them. And as a mother, I wouldn't underestimate how important that is, having that vision that you can really do anything—not because somebody told you, but because you've seen and experienced it. I think that will be a lasting impact on our kids."
The Obama's definitely bought the 'sexy back' to politics with Michelle often being being described as one of the sexiest First Ladies of recent times. She made the White House cool again and has become a style and fashion icon for women around the world. Barack and Michelle hung out with celebrities and were often seen in the company of stars like Beyonce and Jay Z. They appeared on talk shows and comedy skits and didn't take themselves too seriously. But perhaps what we all loved most about the First Lady and the President was the way they loved each other.
One of the images from the photo shoot shows the two in silhouette holding hands with their heads nearly touching. The photo has become something of an internet sensation as many are calling it the ultimate in 'relationship goals.' So popular is it in fact that twitter and Instagram users have been sharing the image and adding their own captions. Check them out…
Most of the comments are very favourable towards the First Lady Of The United States (aka FLOTUS) and were complimenting of her…ahem… shapely figure!
Others were just touched by the couple's clear connection with each other that just oozes out of these photos.
And a Michelle Obama Squats DVD?? Yass!! Definitely sign me up for that one!
Images: Twitter and Essence Magazine