A Big Announcement From Pete Stefanovic and Sylvia Jeffreys!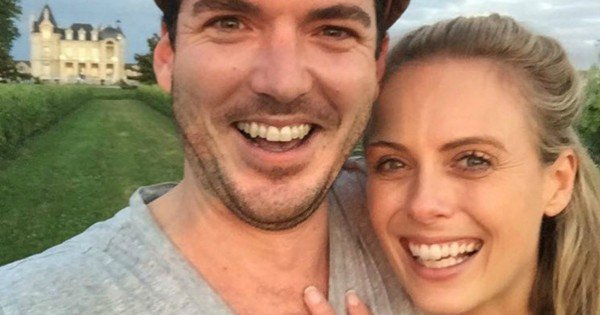 Sylvia Jeffreys and partner Pete Stefanovic have announced they're engaged!
The couple, who are currently on holidays in Europe, shared the happy news via Instagram with a pic of the two of them amongst rambling vineyards. Sylvia captioned the photo on her Instagram with:
"How's this for a framer? A couple of weeks ago Pete popped the question, and I said yes, OF COURSE!!! We've had the most wonderful time celebrating with great mates. We couldn't be happier (check the grin) and so excited to share the news with everyone."
Peter captioned the same photo with much fewer words and getting straight to the point: "Asked my missus to be my wife and she said yes."
Today Show hosts Karl Stefanovic and Lisa Wilkinson managed to get Sylvia on the phone for a chat on Today, and the newsreader was giddy with excitement.
"We've got a wedding to plan! He's very romantic and he was true to that. We ended up in a vineyard, he was taking some photographs, and I turned around and there he was on one knee," she revealed.
The couple have been engaged for a few weeks now with Pete having brought the ring all the way from Australia. He apparently went to extreme lengths to keep it a surprise from Jeffreys.
"He kept separating himself from me when we'd go through security scans at airports, he was afraid they'd get him to pull it out. Can you believe he did it all by himself? He didn't even tell you, I don't think," she said to her new fiance's big brother. "Why didn't he tell me? I wouldn't tell anyone," joked Karl.
Sylvia says they enjoyed celebrating the happy news on their own for a while before sharing it with the world. "We didn't tell anyone for a couple of weeks because we wanted to enjoy it ourselves, but it certainly didn't take me two weeks to say yes – it took milliseconds."
When Karl and Lisa asked Sylvia if they could speak with Pete, she revealed he was too busy watching the football to come to the phone. "I think this is my life now – doing things while Pete watches football," said Sylvia. "Welcome to the Stefanovic clan!" laughed Karl.
Congratulations you two!!
Photos via Google Images