Bindi Irwin Calls Ariel Winter- "One Of The Strongest Women I know!"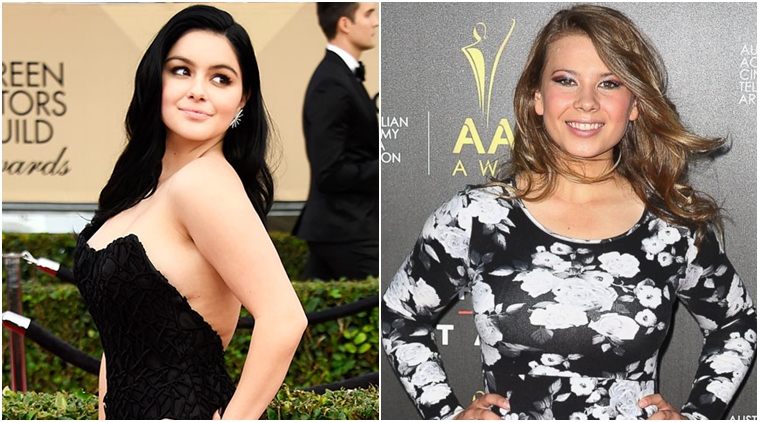 Bindi Irwin has shown what sisterhood is all about by throwing her support behind actress Ariel Winter – calling the Modern Family star "one of the strongest women I know".
The two 18 year olds follow each other on Instagram and Twitter, and in a recent interview Bindi was full of praise for the actress and all she does to promote body acceptance and confidence.
"I love her so much because she has got to be one of the strongest women that I know," she said. "You look at what she posts and just as an individual she's a lovely being — she's a girl with a message!"
Bindi loves the fact that Ariel encourages young women to love who they are and be proud of their bodies- curves and all.
"I think that we share that message so completely because we all get caught up in trying to be like each other — and that's kind of this ideal, and we all try to live up to this ideal — but really it's an individual thought of what beauty is," she said. "You have to love who you are and know that you are beautiful and own it."

"If you have curves, you have to own it — and if you have been born to be able to pull off that bikini really well you have to just enjoy it and love your body and love who you are as an individual — not only for girls, but for guys as well," she said. "I see a lot of young men who are really trying to fit that box — and they have to live their lives and be true to who they are."
Following Bindi's amazing support Ariel was quick to respond with her own admiration for the 18 year old. She tweeted back a message to Bindi after the interview was published writing: 'I adore you Bindi Irwin #feelingismutual.'
The Modern Family actress has been subject to plenty of criticism for the revealing outfits she often wears and earlier this month, she said that she was body shamed at age 12.
'I've been body shamed for just about everything I could be body shamed for. I mean, I've worn a dress at 12-years-old and got body shamed for it,' Ariel said.
The actress recently underwent breast reduction surgery as she felt very uncomfortable with her breasts that she felt were too large for her body. Since the surgery Ariel says she's never felt better or more confident in her own skin.
Photos: Google images