Blac Chyna's Top 10 Pregnancy Outfits!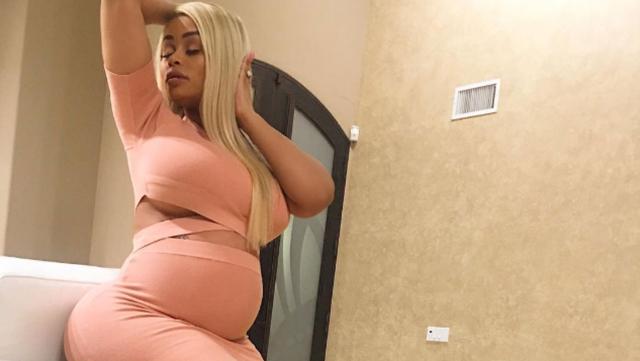 When a woman falls pregnant usually one of two scenarios occur. Her body starts to look and feel so foreign that she starts to dress purely for comfort without giving a second thought to fashion. Then there is the second type of woman who continues her sense of style right through till she gives birth (Blake Lively is the prime example of this- she has not budged from her impeccably dressed style one iota). This woman continues to wear her normal clothes and manages to accessorise around her baby bump- she sees it as a feature to work with rather than a hindrance that she can't seem to cover!
Blac Chyna,28 the very pregnant fiancee of Rob Kardashian is somewhere in the middle. While she never claimed to be a style icon she definitely had her own 'sense of style.' Even before pregnancy her outfits mainly consisted of lycra, stretchy dresses and lots of sweat pants. As Blac progresses through her pregnancy her outfits perhaps haven't. There are lots of peek-a -boob tops, tight dresses that hug to every curve and lots of zany colour!
Here's a woman who couldn't give two flying frog's legs about how she should dress – pregnant or not! Her fashion style hasn't changed just because she now sports a growing baby bump. Blac is still rocking her ghettto style like only she can. Let's check out some of her most memorable looks so far:
Lots of side boob action happening here in a draped, white halter neck dress.
This look is typical Chyna- leggings, trainers and a Chanel bag!
In her trademark sweats again but this time she's rocking the socks and slides look.
LOTS going on here! Lots of Adidas lots of colour yet not much fabric! This is a classic LA look, complete with the peek a boo neon bra on the side.
Chyna hit the red carpet here to celebrate the launch of her emojis and she glammed her look up with a plunging black dress that looks great on the pregnant star.
I'm not 100% sure but I think Chyna may have left her pants at home- they're definitely not in that teeny bag of hers either!
Another day another body hugging dress.
This was Chyna's 'holiday in Miami' look where she was happy to let it all hang out in a tight lycra cat suit.
Very Janet Jackson in a matching tracksuit. Please note the fact that her phone matches her car. Thank you.
The last look is her most recent one. Chyna wore this tight velvet number while out with friends in LA recently. While I don't mind the dress I think she could've made more effort with her foot wear.
How did you find dressing while pregnant? Was it a struggle or did you continue wearing your normal wardrobe by just adding a few extra pieces?
Photos: Google images