Bode and Morgan Miller Welcome Twins A Year After Losing Their Daughter In A Drowning Accident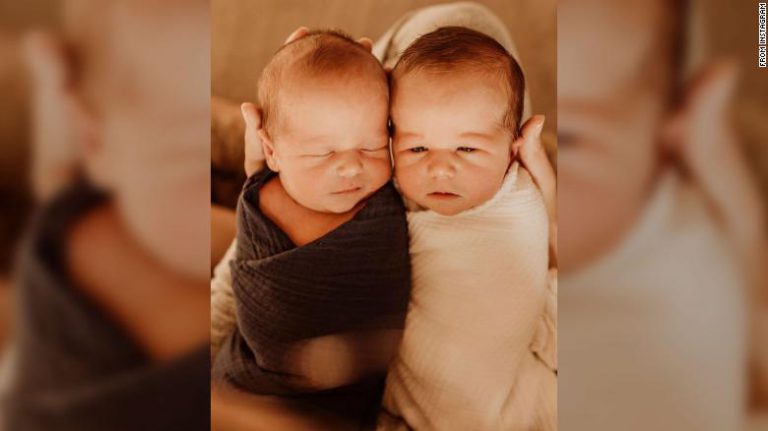 Former Olympic skier Bode Miller and wife Morgan have welcomed twin boys into the world a year after tragically losing their one year old daughter Emma in a drowning incident.
The babies, who were born on November 8th were delivered at home by Bode and his mum, a former midwife.
"None of the midwives actually made it on time," Bode said on America's Today Show. "By the time they got there, me and my mum were both holding the babies. … One minute we're just hanging out and the next they were out."
"We're both pretty relaxed and pretty casual," Bode continued. "But we were certainly not qualified to be doing an unassisted home delivery of twins."
"We're still floating from the whole experience," Morgan added. "It was just so amazing to have it go as spontaneously but as well as it did. And for Bode to get to deliver his identical twin boys with his mum…it was pure magic."
Proud mum Morgan shared the first pics on her Instagram account along with the caption, "Insanely overwhelmed and grateful for all these gifts my baby girl keeps sending."
Following the devastating death of their daughter last year, the couple have put all their efforts into raising awareness of child drownings and working on prevention.
Morgan announced her pregnancy in August saying that she learned that "joy and grief could coexist. Now, I can actually say with joy and excitement that we are expecting identical twin boys."
Their announcement came a little over a year after their 19-month-old daughter died in a tragic drowning accident. Four months later, the couple welcomed their son Easton.
The twins join the couple's sons Easton Vaughn Rek, 13 months, and Edward Nash Skan, 4, plus Bode's son Samuel Nathaniel, 6, and daughter Neesyn Dace, 11.
Bode had always said he wanted twin boys born on his birthday (October 12) and while his wish didn't come true, the couple are super happy the boys, who have yet to be named, are finally here.
"From the beginning of this pregnancy, we knew Emmy had her hands in this miracle somehow," Morgan said.
Images: Instagram