It's A Boy For Jools And Jamie Oliver As They Welcome Baby Number Five!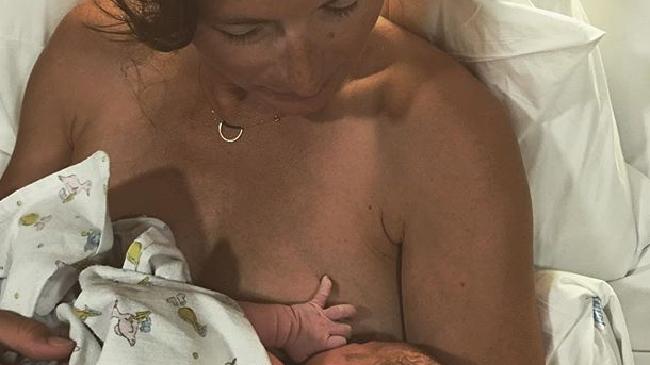 Jamie Oliver and wife Jools have welcomed their fifth child, a baby boy!
The happy news was announced on Instagram by the proud mum after she posted an image of herself (above) breastfeeding her newborn son with the caption: "Little baby boy Oliver has arrived, we are so very happy, blessed, grateful and totally in love all over again and so very proud of our two eldest daughters who cut the cord. Jamie was my hero. (no name yet)!!! XXX."
The couple's two young daughters, Poppy Honey Rosie, 14, and Daisy Boo Pamela, had a very hands on experience – they got the chance to cut the umbilical cord of their new brother!
Celebrity chef, Jamie, was just as excited by the birth of his new son and he too shared a photo to his 4.7 million Instagram followers. The photo (above) of the gorgeous newborn was accompanied by this happy message which gave a shout out to all mums: "And then this just happened guys!! IT'S A BOY!! Everyone in the Oliver family is very surprised and beyond happy. He arrived safely, mum @joolsoliver was really really amazing, unbelievably composed, natural birth and my two eldest girls got to come in at the very end as the baby was born which was amazing to witness very very emotional. 8 lbs (that's 16 packs of butter for you bakers out there) anyway we're hitting the hay it's been a long day, big love…bless a little baby boy woop woop!!! And love to all you mums out there how amazing you are it blows my mind. Big love Jamie O. P.S no baby name yet!"
We can't wait to hear the name they will choose for this latest addition to their family.  So far the clan consists of daughters- Poppy Honey Rosie, 14, and Daisy Boo Pamela, 12, Petal Blossom Rainbow, 6 and son Buddy Bear Maurice, 5.
Congratulations you guys- what a gorgeous family!
Photos: Instagram and Google images