Britain's Biggest Family Has A New Member- Child Number 19!!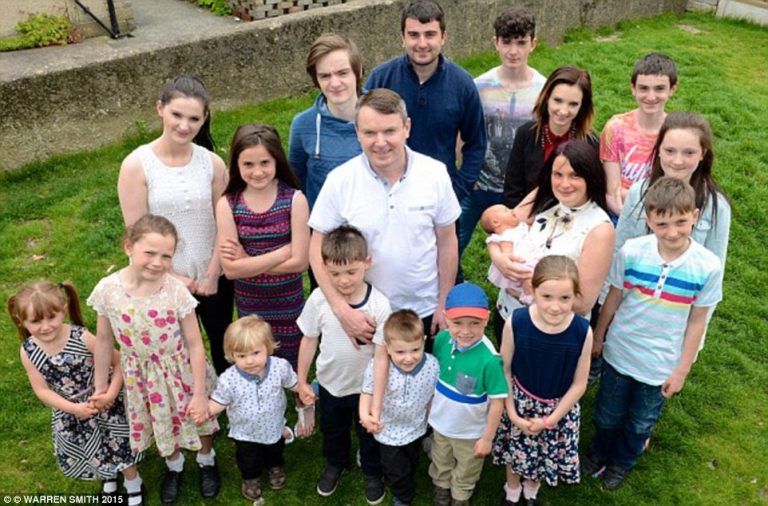 If you're sitting at home looking at your pile of laundry multiplying right before your eyes you may want to spare a thought for Sue Radford, mum of 19, who does up to 12 loads of washing a day!!
The 41 year old mother who has just given birth to her 19th child, a daughter Phoebe Willow, with husband Noel rose to fame on the documentary series 16 Kids and Counting. And counting they are!
Sue had her first baby at 14 years of age and is now mother to Chris, 27, Sophie, 22, Chloe, 21, Jack, 19, Daniel, 17, Luke, 15, Millie, 14, Katie, 13, James, 12, Ellie, 11, Aimee, 10, Josh, 9, Max, 7, Tillie, 6, Oscar, 4 Casper, 3 Hallie, 13 months and newborn Phoebe.
Sue may have just given birth to her 7lb 15oz daughter but she hasn't ruleD out having another one! She said: 'Phoebe is so beautiful and I am happy to have her here safely for now — but never say never. Our friends and family keep saying I should have one more child to get an even number, rounding the family off at 20. I can't rule it out. At the moment I am happy to have Phoebe with us. She is healthy and a little stunner. We are over the moon to have her here. The rest of the kids are lining up to have a cuddle with her. I find it easy to run the family because they pitch in so much.'
I totally take my hat off to her and her husband for raising their huge family without any government benefits or even a credit card! They even manage to go on holidays every year and give each of their kid's a birthday party as well. What?!
The couple own a bakery which Noel works at every day. He leaves the house at the crack of dawn leaving Sue to get everyone ready for the day. Holy crap! I'm having anxiety just thinking about the logistics of a family this big! Where do they all sleep? Do they all sit down for a meal together? How many cars are needed for school drop off? So many kids so may questions!
The announcement of Sue's latest pregnancy in January came just a few weeks after their eldest daughter Sophie welcomed her third child, a boy called Leo on Christmas Eve. Sophie, who married husband Joe last year also helps out with the family business.
HOW BRITAIN'S BIGGEST FAMILY SPENDS A TYPICAL DAY
After an early start in the bakery, Mr Radford returns home every day at 7.45am to sort out the children and get them to nursery at school.
All their uniforms are washed and laid out the night before, while breakfast is staggered into two shifts.
Six of the children are at the same primary school ten minutes away and five are at secondary school. Noel drives them in a minibus which, as it carries more than nine passengers, is entitled to use bus lanes.
Meanwhile, the three youngest, Oscar, Caspar and Hallie, remain at home with Sue, though Oscar goes to nursery in the afternoons.
The family do between six and 12 loads of washing a day, get through 30 bottles of washing liquid every month and use four toilet rolls a day.
Incredibly they manage to feed the family on £250 a week, feeding them all pasta or a large stew using deals with their local butcher and greengrocer.
Bathtime at home begins around 6pm and while the younger ones will be bathed and in bed by about 7pm, the older ones stay up until 9pm.
Mr and Mrs Radford say they are in bed by 10pm.
Holy cow- someone pass me the gin!
Images: Instagram and Cascade News