Bruce Springsteen Signs A Boy's Absence Note For Missing School!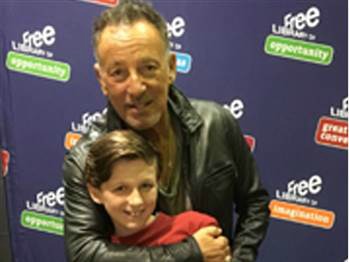 A father and son in America came up with a perfect plan to get out of detention after being absent from school- and it included Bruce 'The Boss' Springsteen!
The Philadelphia 5th grader got the legendary rockstar to sign the absence note (below) while promoting his new book at the Free Library of Philadelphia.
Michael Fenerty, a student at Julia R. Masterman School, came up with the idea with his dad, Mike, who's been a Springsteen fan for more than 40 years.
"I asked him, what's the protocol if I keep you home tomorrow?" dad Mike said. "He said you need to call the school and send in a signed note. He looked at me and said, 'We should get Bruce Springsteen to sign the note!' We both laughed and then we thought, 'Let's try it."'
The idea may seem a bit out there but it wouldn't be the first time The Boss had done something like this. In March, the singer signed a note for a fourth grader after a concert in LA. The note read- "out late rocking and rolling."
The concert Mike and his son attended was one of Springsteen's longest- 4 hours and 3 minutes to be exact!!
"As a fan I loved it. As a father, I wanted to kill him," Mike joked.
So before the father and son went to the meet and greet for Springsteen, they typed up a letter to Masterman School principal Jessica Brown written from Springsteen's perspective, hoping they could find a way to get him to sign it.
Upon seeing young Michael, Springsteen brought him up for a hug and a high-five. While Mike was talking to Springsteen, who he knew socially in the 1980s, his son pulled the prepared note out of his pocket and asked him if he could sign it.
"Springsteen says, 'I gotta read it first. That's how I got in trouble with my first contract,"' Mike said. "Then he says, 'I hope you don't get in trouble!"
Upon arriving at school the son went to give a photocopied version to his principal – but she wasn't having it!
"When I talked to Brown, she jokingly said, 'I think I can only excuse Michael's absence if you turn in the original note,"' Mike said. "I told my son and he said, 'I'll take my first detention."'
Smart kid!!
Photos courtesy of Mike Fenerty's Facebook