Carrie Bickmore Breaks Down On Air For A Very Important Reason!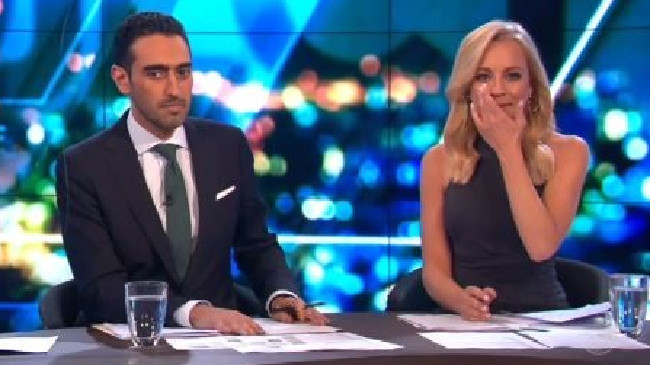 Carrie Bickmore got emotional on The Project as she announced her Beanies 4 Brain Cancer initiative had reached it's $1 million dollar goal!
The project was launched by the 35 year old during her 2015 Gold Logie acceptance speech to raise money for brain cancer research.
"We had Brain Beats concert, which was a great success. The last few months, we've been selling beanies — I completely underestimated how many people would want the beanies and I under-ordered, so I'm so sorry if you didn't get a beanie — next time we'll order three times as many," she said. "Because of your generosity, we have already reached our million dollars — $1.1 million. So, thank you, thank you, thank you. I am just so blown away about that."
"To each and every one of you who have bought a beanie, seeing all the pics coming up on social media, families and babies and kids and, you know, I don't know any of you, but I feel like I know you all," she added.
Her co-host Peter Helliar was full of praise for Carrie's hard working ethic and tireless work to achieve her amazing result for Brain Cancer Research.
"What people should know about what Carrie has done is how hands-on you have been," he said. "I sit next to you in our office, and you didn't just pass it off to another team to do it. I've heard you have discussions with your web guy, customs, truckies, people packing the orders, manufacturers."
Carrie's husband, Greg Lange, (above) died of brain cancer in 2005 and he is the inspiration and sole reason for her starting this fund. She spoke about his struggle with the disease during her Logie's speech.
"The image we're about to see now, that is of my late husband, Greg. And he is the reason that I did this all, and I want to say to anybody who is suffering from brain cancer right now, we will use this money, and we will use it to try and make your future brighter, so that is what I promise you we'll do."
If you want further information or would like to donate to Beanies 4 Brain Cancer click here.
Photos: Google images and Channel 10