Chewbacca Mum Has Made A Small Fortune From Her Video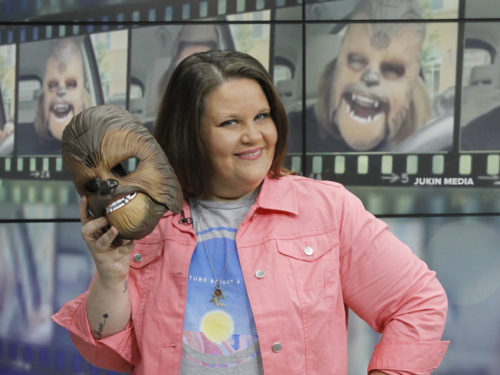 Star Wars loving mum of two Candace Payne, became a YouTube sensation when she posted a video of her trying out a new Chewbacca mask.
Candace was so excited with the toy that she would break out in laughter every time the Chewbacca mask roared. Viewers seemed to really connect with her utter enjoyment and before she knew it, her video became the most watched on Facebook ever!
The mum became an overnight sensation and pretty soon everyone was trying to get her attention. She did a carpool karaoke with James Corden, appeared on Good Morning America and even got a trip to Disneyland.
A tally was recently done to see exactly how much Candace had profited from her 4 minute video. And let's just say, she probably has enough to buy her own Millennium Falcon soon.
The grand total is roughly $420,000 and the break down looks something like this:  $3,000 in gift cards from Kohl's +$5,000 travel expenses for talk shows + $2,500 gift card from Hasbro + $7,500 Disney World vacation for the family + $2,000 for the VIP treatment at Fan Expo Dallas + $400,000 in college scholarships for her family.
Wow! That's a seriously good investment from a $50 Wookie mask!
https://youtu.be/X26FuAlnnWY