Chris Hemsworth Takes A Break From Filming THOR: RAGNAROK To Visit Kids At Brisbane Hospital!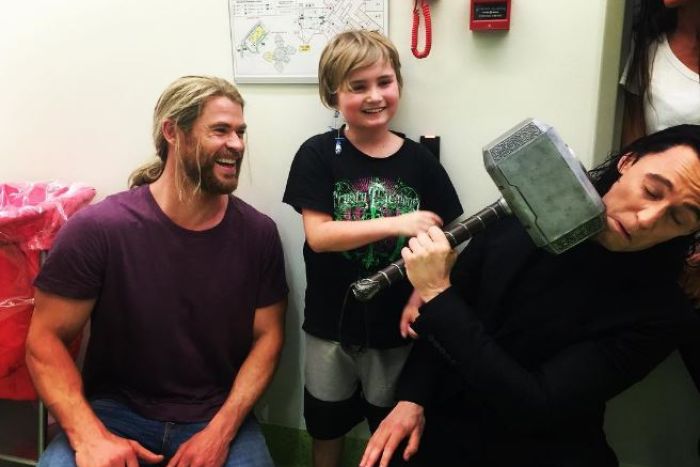 Thor: Rangnarok stars Chris Hemsworth and Tom Hiddleston took a break from their hectic filming schedule recently to visit sick children at Brisbane's Lady Cilento Children's Hospital.
Hemsworth shared the above photo on his Instagram account with the caption: Met the real superheroes of the world at @ladycilentochildrenshospital. A huge shout out to all the brave kids who are an inspiration to all of us! @twhiddleston #madepossiblebychf #ladycilentochildrenshospital #juicedtv
Young patient Koen Weir (below) got to chance to sit down for a chat with two of the biggest names in Hollywood who are currently filming on the Gold Coast.
The stars took some time out to make the day of dozens of children like Koen who were spending time in hospital. The Hollywood actors chatted to young Koen and his mates from Juiced TV, at the hospital, hot on the heels of visits from Taylor Swift and Johnny Depp.
"I was like "Oh my God, they are here, I can't wait to meet them," Koen said about the surprise meeting.
Koen said the superstars were "nice, good people" and he was excited to find out what they were like in real life, not just in the movies.
Hemsworth and Hiddleston, who play the Marvel Superheroes Thor and Loki respectively were spotted on Monday by lucky fans out on the streets of Brisbane filming some action scenes for the upcoming blockbuster. Thousands of people flocked to the city's streets, which had been partly transformed to look like New York City for the movie set.
Photos: Instagram and Google Images