Chrissy Tiegen Gets Honest About How Celebrities Really Lose Their Baby Weight!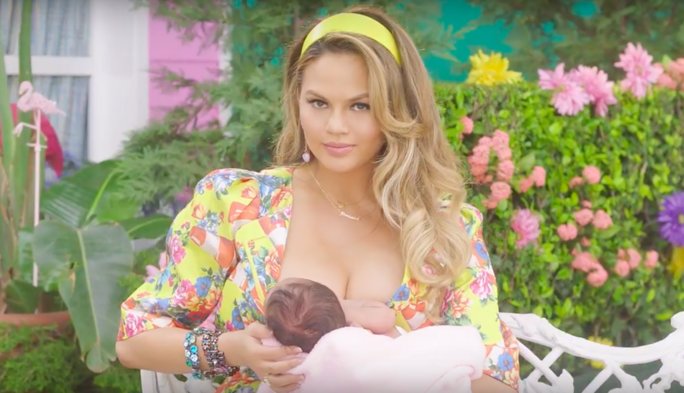 It's seems that every time we turn around these days there's another celebrity mum who's shed her baby weight within days of having her newborn. ( A slight exaggeration maybe, but you know what I mean.) Now while we know every woman's body is different and no two pregnancies are the same sometimes we are left to wonder exactly HOW these celebs get their pre-baby bodies back so quickly!
Chrissy Tiegen is spilling the beans in an attempt to make mums feel better about their own post-baby bodies. The 30-year-old model, who gave birth to baby Luna in April, shared exactly what kind of help celebrities have to help them get back in shape. And let me tell you, it doesn't end with a personal trainer!
"Anyone in the public eye, we have all the help we could ever need to be able to shed everything," she said in on The Today show. "So I think people get this jaded sensation that everybody's losing it so quickly, but we just happen to be the ones who are out there."
"We have nutritionists, we have dietitians, we have trainers, we have our own schedules, we have nannies," she shared. "We have people who make it possible for us to get back into shape. But nobody should feel like that's normal, or like that's realistic."
While Chrissy was on a roll, she also spoke about the hate and judgement celebrities get when they post photos online.
"At this point, I know what they're going to say before they say it," she said. "If I'm holding Luna while I'm cooking, or if I'm holding her within 10 feet of a stove top, I've kind of just come to expect it."
Receiving negative comments was just one of the reasons which prompted Chrissy to make her Twitter account private last month.
"It wasn't that I didn't want to hear criticism, I just didn't want to hear hate," she explained. "It's been… like a self-care move, I feel really good every day. I wake up pretty happy. I don't feel like everyone is mad at me for something, it changes you. There's something about it."
"I think a lot of people lack empathy and compassion and understanding of other people's feelings, and I think for me and husband John Legend, we want her to be very emotional," she said about daughter Luna.
"I want her to have passion and things that she loves and to do everything to the best of her ability… and to be vocal about when something's wrong and when she wants to stand for something," she added. "So for us, I think teaching her how to be a good human comes before anything."
Photos: Instagram