Christie Brinkley, 67 And Daughter Sailor, 23 Twinning In Latest Instagram Photo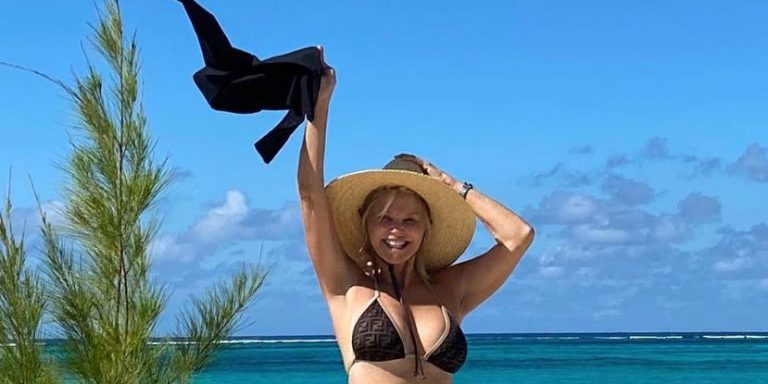 Christie Brinkley, 67 And Daughter Sailor, 23 Twinning In Latest Instagram Photo
Christie Brinkley shared a photo alongside her daughter Sailor and fans can't believe the model is 67 years old!
Brinkley is one of world's most adored models with a career spanning over 40 years. She famously appeared in ex-husband Billy Joel's video clip for Up Town Girl in 1983 and has continued working consistently ever since.
(Fun fact: Billy Joel revealed the original title of the song was 'Uptown Girls', and it was written at a time when he was friends with Christie Brinkley, Whitney Houston and his then-girlfriend Elle Macpherson. The song was initially written about his relationship with model Macpherson, but it ended up also being about his soon-to-be wife, Brinkley. Both women were two of the most famous supermodels of the 1980s. He later said: "The fact that I can attract such a beautiful woman as Christie should give hope to every ugly guy in the world!")
The model has three children: 35-year-old daughter, Alexa, with singer Billy Joel, son Jack, 26, with property developer Richard Taubman, and Sailor, 23 with architect Peter Cook.
Brinkley shared her latest photo with her 23 year old daughter Sailor where they both attended a party to celebrate designers Michael Kors.
"Celebrating 40 years of the iconic American style of the adorable legend @michaelkors in the chicest garden of hosts extraordinaire Jon and legs for days @tizzielisch and co hosted by the lovely and glamorously cool @naomiwatts plus strawberry shortcake all on a gorgeous summer night," the supermodel captioned the post.
View this post on Instagram
"Thank you all for including @sailorbrinkleycook and me! PS Thank you @owengould for our new haircuts!"
View this post on Instagram
Commenters couldn't believe how amazing Brinkley looked and were quick to say just how much the mother and daughter looked alike.
"Twins," one wrote.
"Are you sure you and Sailor aren't sisters? Beautiful ladies, looks like a fun evening," a second said.
"Both stunning," a third added.
View this post on Instagram
Brinkley has been modelling since the late '70s and shot to stardom in 1979 after she made the cover of three consecutive Sports Illustrated Swimsuit. She also famously appeared as the hot blonde in the sports car in National Lampoon's Vacation opposite Chevy Chase in 1983.
Images: Instagram