Does Chyka Keebaugh Have The World's Most Organised Laundry?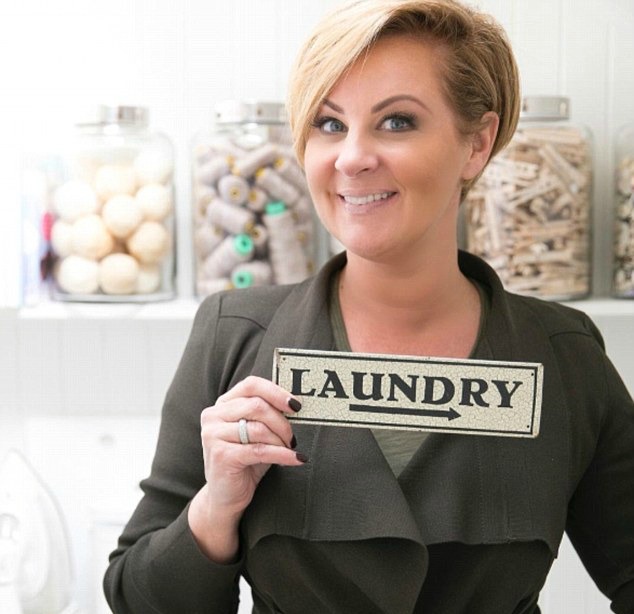 The laundry is definitely the one room in the house which is the hardest to keep tidy. Constant piles of washing, unfolded clothes and half empty laundry detergent bottles are usually strewn everywhere. It isn't usually a room known for it's amazing styling.
Unless you're Chyka Keebaugh that is. The Real Housewives of Melbourne star has given us a glimpse into her impeccably organised laundry and lets just say I have a sudden urge to go and organise my poor excuse of a room!
The 47 year old mother-of-two, owns events company The Big Group and also founded the Design Depot, an events styling company – so it's no surprise that her laundry is this stylish!
Chaka says her laundry wasn't always so organised and in fact it began as a little junk space.
'It's in a tiny nook that used to be a storage cupboard that we converted into one of the cutest little rooms in the house,' Chyka said. 'The laundry is often an afterthought when it comes to decorating and is often forgotten. But really, we spend so much time washing, ironing, sorting and the like – that doing these chores in a cute space can make the jobs a little more enjoyable.'
Apparently her laundry space is no bigger than a storage cupboard and the fact that it's so tiny means it's easier to keep tidy. 'Utilising the odd space that was a storage cupboard was a fantastic idea. Our laundry is a little bit bigger than a Euro closet but it has the bare necessities plus a few fun styled up tricks,' she said.
The room is painted a crisp white with rows of jars that contain colour coordinated yarns of cotton, buttons, wooden pegs and soaps. She also has her washing machine and dryer neatly placed in the corner and four baskets labelled with 'White's,' 'Ironing,' 'Colour,' and 'Drycleaning.'
Chyka also stores her laundry essentials in a stylish box for laundry powder, a box for the housekeeper, high-end soaps and laundry sprays and a row of books with a 'homekeeping' theme.
'It's a fun room to get creative in using up all the available nooks. Areas like behind the door are perfect for utilising hanging space; you could even hang your ironing board behind the door,' she says.
'Maximising your counter top area is a must for sorting clothes as well as laying a tool down for a quick iron; natural light is always best but if you can't have that then get a good amount of downlights.'
Chyka loves baskets and says they are cheap and easy to access and they look great for storing things like towels in.
CHYKA'S TOP LAUNDRY TIPS?
* Have all cleaning items needed should always be kept in easy reach like Fabulon/Napisan /washing powder
* Have a sewing kit to mend that annoying ripped hem and all lost buttons
* Include shoe cleaning items. Plus a variety of shoe laces as our somehow always disappear?
* Have all warranties for washing machine, clothes dryer and iron
* Have name tags for school uniforms
* Have a bag to put all odd socks in even though you know two went in together!!
Originally posted on Chyka.com