David Beckham Accused Of Inappropriately Kissing Young Daughter Harper On The Lips!
David Beckham Accused Of Inappropriately Kissing Young Daughter Harper On The Lips!
David Beckham has created a social media frenzy after sharing a photo of himself kissing daughter Harper on the lips.
The English soccer star posted the sweet picture to Instagram where it received a barrage of hateful comments from fans who claim it's inappropriate behaviour for a father and daughter.
The photo showed Beckham giving Harper, 7 a kiss as they ice skate in front of a Christmas tree.
View this post on Instagram
 "Christmas is coming. Let's go skate," Beckham wrote.
While many saw the picture for exactly what it was, an innocent kiss, there were others who called out the dad for being 'creepy.'
"How can you kiss this little girl on her lips," one said, while another added, "This is not right!" and a third said, "Not on lips. Cheeks is OK." Of course Piers Morgan got his two cents in as well with this tweet, "It is a bit weird."
However, many came to Beckham's defence, including professional US football star Tom Brady, 41.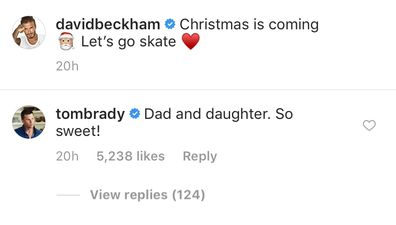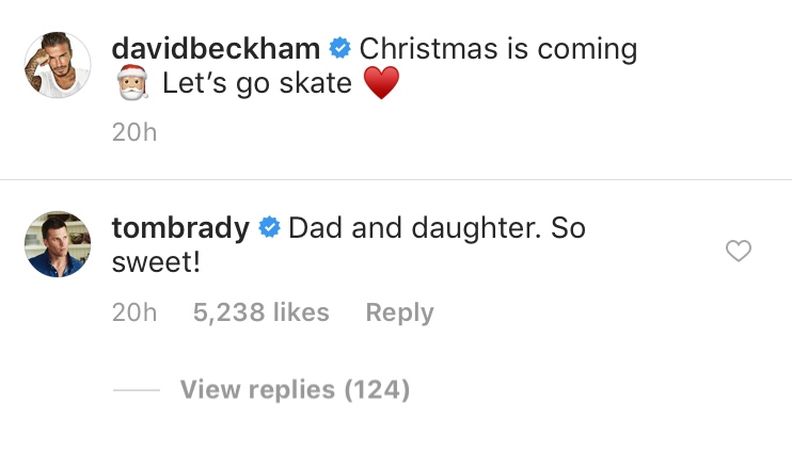 "Dad and daughter. So Sweet!" Brady said,  who himself sparked made headlines after sharing  an innocent video showing him kissing his 11-year-old son on the lips for the documentary Tom vs. Time.
Many other fans also offered their support. "He's her dad and she's his daughter," one person wrote. "Why do people have to look too far into things? Not everything has a sinister motive! She's a little girl clearly comfortable, happy and having a lovely time with her dad. Innocent and lovely."
"Who cares what everyone else says, you love your family and not many kids have loving homes. You're a great dad and role model. Keep doing what you're doing," another wrote.
"This is a gorgeous photo showing the bond every girl should have with their daddy," another user said. "Well done on being such a good dad."
The backlash Beckham is facing is very similar to the time wife Victoria Beckham got called out for kissing a young Harper on the lips as well. In 2017, Beckham copped online abuse after she posted the below photo of her and daughter Harper giving each other a kiss on the little girl's fifth birthday.
"We all love you so much, kisses from mummy," the former Spice Girl wrote. Again critics called the pic "strange" and "pervy.
The photo of David Beckham and Harper has so far gathered more than 1.8 million likes on Instagram. What do you think? Is it okay for parents to kiss their children on the lips or do you find it inappropriate? Perhaps it depends on the age? Whatever your opinion may be, when it come to the Beckhams one thing is certain, they definitely have a lot of love for their kids who all seem happy and well adjusted.
Images: Instagram