Is This Dress Inappropriate To Wear To A Wedding?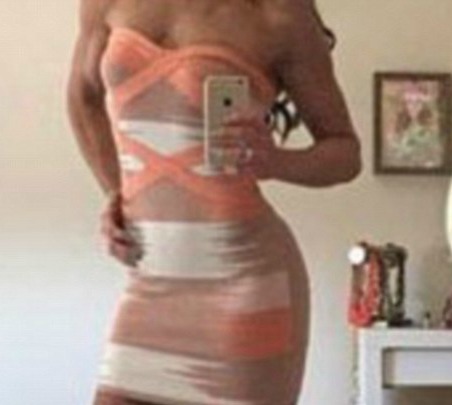 A New Zealand radio station shared a photo of an un-named woman on their Facebook page wearing a dress she wore to a friend's wedding recently. The question posed next to the photo was "Is this dress appropriate to wear to a wedding?"
I don't know about you but I think a better question would've been "Who's wedding is it exactly and are you the one getting married?" Cause if you're a Victoria's Secret Model and your bestie is the bride then chances are you're totally overdressed. Likewise if the bride happens to me Aunt Mavis who found love for the first time and 75 and is having a little 'do' at the local bistro then perhaps you may want to take a jacket.
Don't get me wrong – I think this chick looks banging! But it kinda depends what sort of banging you want to be doing. Am I right?
Ok – back to dress,. It was a strapless, tight fitting, orange, beige and white mini that was teamed with gold stilettos and possibly hair extensions.
According to the woman's friend who submitted the photo, she was faced with bullying from the other guests simply because of her outfit choice. Not cool!
"A woman came up behind her and slapped her on the bum and said it was on a dare from a group of other women who were watching and snickering.
Someone else seemingly purposely spilt a beer on her," the friend revealed.
Some of the comments left next to the photo questioned the woman's motivation for wearing such a tight dress to a wedding.
"Inappropriate and disrespectful for a wedding, you are the focus of someone else's special day, not at a club, you made yourself look narcissistic and bit silly, sorry."
While others outright 'slut-shamed' her.
"Too slutty for a wedding…that sort of dress is OK on a date night or for the bedroom but NOT for a wedding."
Not all comments were negative though. Some of the viewers supported the woman's choice in clothing and said as long as the bride and groom were ok it really shouldn't be anyone's business.
"As long as the bride was fine with it then go for it. Chances are the bride knew her friend well enough to know what she would wear.
I'm very disgusted also that we are even asking the question."
Others commented on the amazing shape the woman looked to be in and said the hateful comments all came down to jealousy.
"Jealousy. That's all it comes down to. Jealous of your amazing figure, and your confidence to wear a dress that shows of that amazing body.
"I had guests wear jeans at my wedding…that offends me more than this dress. No one should be treated the way you were, that is disgusting, immature behavour."
One supporter of the 'dress' is mummy blogger Constance Hall who had her say on the saga:
'Looking back on my wedding I am disappointed that I didn't write on the invitations, "Please flaunt it, flaunt your body, whether it be rolls or muscles, skinnyminnies and magnificent curves, tall ones, short ones, round ones straight ones, I want a selection",'  Hall wrote on her blog.
'I especially like what you wore to this wedding because it oozes pride and f***, you should be SOOOOO proud. That bod of yours looks very well worked out, you don't roll out of bed, land on your Maccas left overs, peel them off your thigh and shove them in your gob to get a bod like this, this is dedication.'
What's your view on the dress? Is it even a question that should be up for discussion?
Photos via Facebook.