Emily Blunt Opens Up About Life After Babies Saying "I Didn't Shower For A Week!"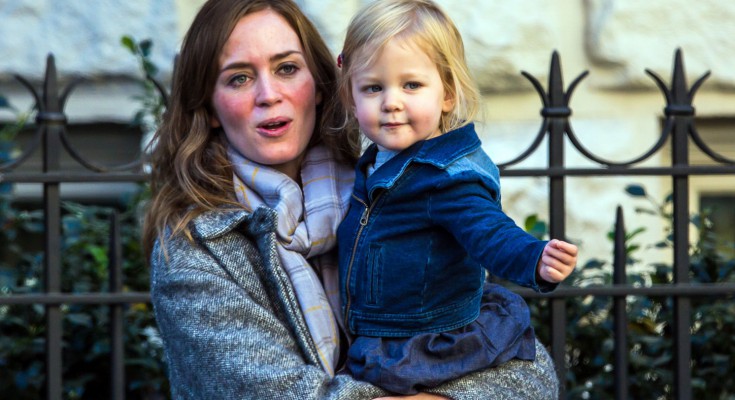 Having your first baby is one of those experiences that no-one can prepare you for. Sure you can read all the books you want and listen to your girlfriends tell you their experience, but you will still NOT be ready for what happens once you pop that baby out!
Sleep deprivation, mood swings and leaking boobs are just a few of the joys motherhood brings. These experiences are what gives mums a bond, a commonality that sees us through even the toughest days. We all know that look in a mum's eyes as she pushes her pram around the shopping centre silently hoping her baby falls asleep long enough to let her sit down and have some sushi!
These moments are exclusive to the average mum like you and I either. Even if your'e a Hollywood celebrity like Emily Blunt– you will still go through WTF moments after having your child!
It was so refreshing to hear actress Emily speak about her experiences of life postpartum to InStyle magazine recently. The Girl On A Train star spoke candidly on just how different her life was after having kids.
Emily said that after coming home from the hospital following the birth of her daughter Hazel, who is now two years old, she didn't get a chance to shower for a whole week! Yes!! I can totally relate to this! I had my kids by C-section and I was so traumatised by how my scar looked and felt that I was too afraid to get anywhere near water. Along with the fact I suddenly had 2 babies to feed, change, put to sleep and generally keep alive, I barely had a moment to brush my teeth let alone disrobe and get in the shower!
"After we got home from the hospital, I didn't shower for a week," Emily admitted. Totally fine Em- we understand!
The mum of two (who had second daughter Violet 5 months ago) also recounted how she tried to have dinner out with husband John Krasinski "just to prove to ourselves that we could feel normal for a second."
"I could last only about an hour because my boobs were exploding," Emily says of their attempt at date night. "When the milk first comes in, it's like a tsunami."
I remember trying to go out for dinner, feeling like a whale with a pair of humongous double E breasts that constantly leaked. I tried to stay calm and ignore our screaming babies in the pram while I ate dumplings with my husband. I was determined to feel normal and do normal things! But alas- our date nights were soon to become Thai take out on a Friday night eaten on the couch with pjs on! (Which secretly I preferred anyway).
When asked how she was dealing with two kids now Emily said: "It's a zoo! When there was just one kid, somebody would get to sit down. Now nobody gets a break."
Luckily she has a supportive and very hands on hubby.
"John is the most unbelievable daddy," said Emily. "He prioritizes Hazel so she doesn't miss me too much because I've been so consumed with the baby."
Daughter Hazel is loving her role as big sister too. "There have been no physical attacks or suffocations," Emily shared. "She fluctuates between complete disinterest and moments of sheer passion."
Welcome to motherhood Emily! You're doing a kick arse job AND you still have your sense of humour!