Nikki Webster Says: Now I'm Just a Normal Mum!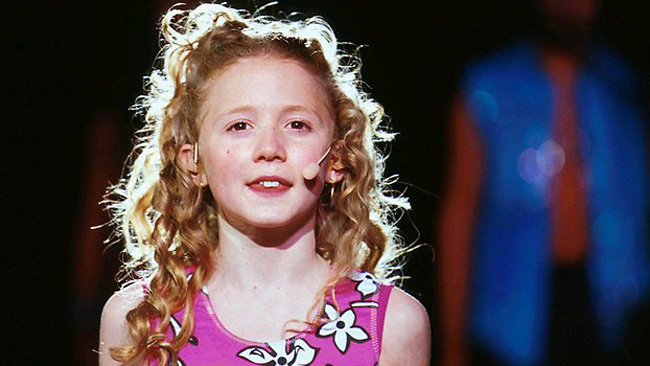 It's been 16 years since Nikki Webster captured the hearts of the nation when she took to centre stage for the opening ceremony of the Sydney Olympic Games.
The 29 year old says she's enjoying life away from the spotlight, but will always cherish the once-in-a-lifetime opportunity that shot her to fame at the age of 13.
Nikki, who now runs a number of dance schools, said it was an amazing experience but definitely made her grow up a lot quicker than she anticipated.
'It was an amazing experience and journey for me and continues to be because it was such an amazing moment for our country… being Australian and being able to represent my country,' she said.
Dressed in a pink dress with her hair tied in ribbons, a 13 year old Niki Webster was suspended over Sydney's Olympic Stadium while belting out the patriotic, Under The Southern Skies. She was just a young girl but that didn't stop the backlash she received after her appearance. As her public profile grew, so did the criticism surrounding her.
'It made me grow a thick skin. It made me grow up a lot quicker in terms of I knew what I wanted, and what I wanted was to prove a lot of people wrong,' she explained.
After the Olympics, Nikki went on to release her first single Strawberry Kisses in 2001 which got to number 2 on the Aussie charts. She then appeared on Dancing With The Stars, which led to her finding love with dance partner Sasha Farber. The couple dated for four year but eventually broke up with Nikki saying she felt too young to be locked down.
Nikki then went on to marry Matthew McMah, (below) in November 2012 in front of family and friends.
'I guess it gave me a lot of life experience. I'm not angry at anyone for it, it is what it is and it happens to a lot of people in this country unfortunately,' she said about the negativity she faced.
In 2006 she left Australia for the US as the constant harassment was weighing her down. 'I was the punch line of everyone's joke and I was just a kid. It was quite dark and I think that's why I went to LA, because I thought "I need to do this by myself,' she said. 'I did question whether I wanted to come back as an artist here at all.'
Nikki felt pressured by the public to remain the little girl who graced the Olympic stage.
'At some point as a young girl when you finish school, you don't know what you want,' she said.
One way she tried to ditch her little girl persona was to do a photoshoot when she turned 18 for FHM and ZOO magazines where she stripped down to her bikini. The singer was seen provocatively posing in a tiny yellow bikini on the cover of Zoo. She was subsequently voted seventh in the FHM Australia 100 Sexiest Women 2005 list.
Nikki has no regrets for the racy images saying  'They're beauty shots to me. They're glamorous,' she said.
'It's just we do it growing up publicly and hopefully we do it as respectfully as possible because at the end of the day, I know my daughter's going to find these photos at one point so I want to be respectful. It's about exploring things and having fun – you get boobs and you get a body and everything changes. Some want you to grow up and others don't.'

These days life is much more mellow for the dance teacher as she says she has done even more 'growing up' since then, entering a new chapter in her life – motherhood.
'I suppose I'm a regular mum,' she says about raising her daughter Skylah, born in February 2014.
'At times I'm at home and I do regular mum things and at other times I'm at work and at other times I get to do fun things like perform, get up on stage and do interviews. So I have three areas of my life, it's all very different.'
Nikki now runs three performing arts studios with her brother – in Sydney's Leichhardt, Minchinbury and New South Wales' Central Coast – where she hopes to inspire the next generation.
'It made me very driven,' she said about the criticism she faced. 'And very driven with the dance studios to be able to create a place where the kids understand that sometimes even if they're doing everything right, not everybody's going to see that, and it's not a personal attack, it is just what happens.'
Photos: Google images