How Farrah Abraham Plans On Teaching Her Daughter About Sex!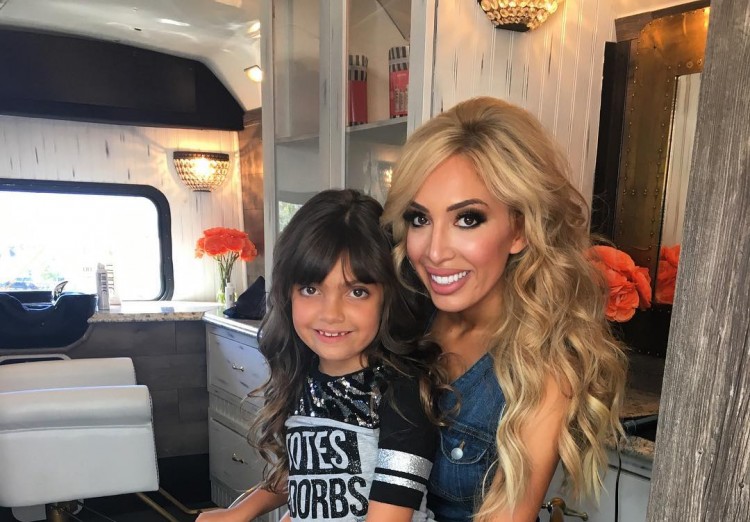 Teen Mom OG star Farrah Abraham believes her 7 year old daughter Sophia is old enough to handle many adult situations.
So much so, that she opened a clothing boutique for her daughter called Sophia Laurent and boasts that the youngster is very hands on with the running of the business. The reality star allows her second grader to help her run the fashion company and says that includes hiring and firing employees at the store.
"I'm very blessed and lucky to have this opportunity with my daughter," Farrah told In Touch magazine recently. "I let her have her input, and I think more children should have an input on things. It should be fun and why not make money when you're 7 years old?"
Farrah recently attended the birthday of her manager Johnny Donovan (see above) where she revealed the rather interesting way she plans on teaching young Sophia about sex one day.
"I mean, that's something that's so normal to me," the 25 year old said. "I public-speak with teenagers and get to do fun things and awareness campaign. I think that's really gotten me ready as a public speaker and gotten me ready to talk to my daughter more so than anything."
"I can always play those 16 and Pregnant episodes and all these things back, that's just, like, the help and I wouldn't take that for granted," she continued. "I would use it as a big tool."
Wow! Who knew 16 and Pregnant would come in handy for some sex ed classes in the future. Let's hope they're the only old videos Farrah plans on using as 'educational tools!'
Photos: Instagram