Finally A Nude Lingerie Collection For All Skin Tones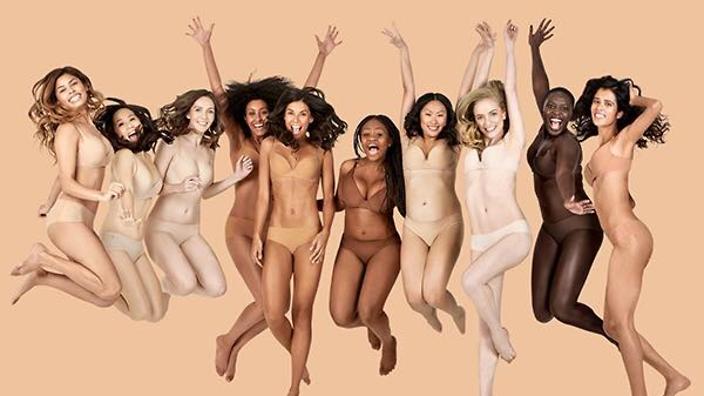 When you buy underwear or lingerie in a 'nude' tone it's supposed to be the colour of bare skin. But have you ever wondered exactly whose coloured skin it represents? Cause we know there isn't just one shade of skin!
In fact the fashion industry tells us that 'nude' is basically the colour of Caucasian skin. Nude bras are usually light beige or peach. Not a single dark chocolate or even caramel colour amongst them.
To try and provide a shade for women of all ethnicities, underwear label Naja has just released their #nudeforall bras, briefs and g-strings which are made to suit women's different skin tones. The range has seven different types of nude shades, from ivory with pink undertones, to dark beige with red hues, to a deep espresso colour and there are still more colours being manufactured as we speak.
Latin American born founder, Catalina Girald said that that the idea for the colour-inclusive line came to her while watching gymnast Gabby Douglas compete in the 2012 London Olympic games.
"I was watching her competing and these girls were wearing an elastic bandage wrap on their foot and it was the first time I had thought about that," said Girald. "I started thinking, 'wow, like, there aren't even dark brown Band-Aids,' so it was a random idea considering Naja didn't even exist back then."
The seven shades of nude collection, is currently being advertised across New York City using real women to model the Naja range. It's a campaign that aims to stop objectifying women, especially in photo shoots where women are usually portrayed as sex symbols- the recent Calvin Klein ad is a perfect example where the shots of the underwear are photographed in a peek-a-boo style up the skirt. Ad executive for the Naja campaign, Madonna Badger intentionally worked with 'non-models' on this particular photo shoot.
"It's giving a face and a personality to the women in the ads," Girald said. "One is a ballerina. Another is a software engineer. Victoria's Secret angels have wings on them but we don't know anything about them, and they're these mythical creatures that don't exist. We wanted to represent women in lingerie as they actually are."
Photos courtesy of Naja.